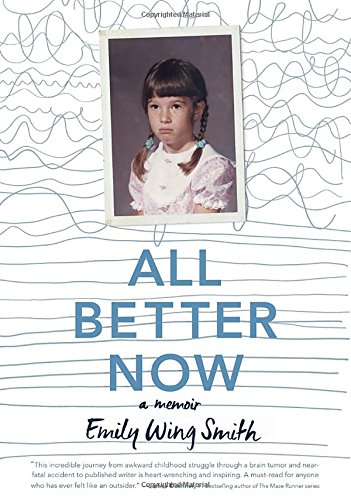 Publisher's Note:
An honest and captivating memoir of the author's childhood struggles as a result of a brain tumor, only discovered following a near-fatal car accident.

All her life, Emily has felt different from other kids. Between therapist visits, sudden uncontrollable bursts of anger, and unexplained episodes of dizziness and loss of coordination, things have always felt not right. For years, her only escape was through the stories she'd craft about herself and the world around her. But it isn't until a near-fatal accident when she's twelve years old that Emily and her family discover the truth: a grapefruit sized benign brain tumor at the base of her skull.

In turns candid, angry, and beautiful, Emily Wing Smith's riveting memoir chronicles her struggles with both mental and physical disabilities during her childhood, the devastating accident that may have saved her life, and the means by which she coped with it all: writing.
This book was sent to Compass Book Ratings for review by Dutton
All Better Now
by Emily Wing Smith
Overall Review:
A heartily freeing memoir by Emily Wing Smith, All Better Now, chronicles her struggles of growing up not only extra left-handed in a world full of right-handed people, but feeling unassailably wrong-handed all together.
This endearing, first person narrative is periodically spliced with correlating childhood photos, doctor assessment notes, and letters from a fictitious love interest. Readers really can't help but feel a pull right away with the author's opening sentence, "I ask myself: How am I still living?" Tenaciously honest, and sometimes brutally so, Emily's writing vividly magnetizes readers with memories that are delicate and yet powerful at the same time. It is undeniably awe-inspiring that she is able to recall such memories with captivating detail and discernment in the face of her physical and mental obstacles.
Anyone who has ever felt broken, left behind, or incomparably different will not only relate, but cheer for Emily and her courageous candor. These readers will inflate with delight that there is no ostentatious pretenses or arbitrary clean-up. This is a real life – a life that is sometimes messy, embarrassing, tragic, with highs and lows, and everything in between.
""Em" he says, "no one can make you all better except for yourself."
His words fall on me like slivered glass and sink into my skin, more painful with each second that passes. Because I've tried to make myself all better – I have. And I know it like you know it when you're getting a sunburn. If no one can make me all better except for myself, then I don't stand a chance."
The message of this memoir that is impeccably portrayed is that sometimes things can't be fixed, cured, or magically disappear. It is about learning to live with (and occasionally in-spite of) the things that seem to be holding us back.
Review of an Advance Reader's Copy
Content Analysis:
Profanity/Language: 7 religious exclamations; 1 mild obscenity; 1 derogatory name.
Violence/Gore: Child wishes to hurt another child (2)x; secondhand report of child hitting; teen threatens child with serious harm to them and family members if child tells of sexual abuse; character recalls hitting/slapping younger sibling; character pokes somebody; secondhand report of child sustaining injuries after being hit by a car; mention of blood; character pinches and kicks a fellow classmate; character hits another character over the head with an object; character playfully throws an object at another character; character thinks about slapping another character.
Sex/Nudity: Implication the child was sexually abused by teen, report later confirmed; non-sexual, child removes clothes; slang used in reference to male genitalia; character is described as being obsessed with sex; mention of character accidentally dialing a sex line; brief mention of a friend being attracted to the same gender; characters kiss.
Mature Subject Matter:
Physical/mental disabilities, sexual abuse (report of), childhood molestation, physical/mental/emotional trauma.
Alcohol / Drug Use:
Mention of drug safety program for children; comment on an area where employees go to smoke; teen possesses cigarettes; teens smoke.
Reviewed By MaryLou