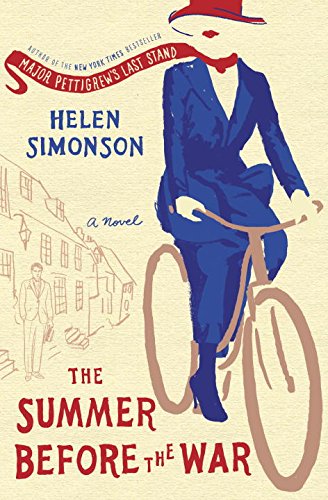 Publisher's Note:
The bestselling author of Major Pettigrew's Last Stand returns with a breathtaking novel of love and war that reaches far beyond the small English town in which it is set.

East Sussex, 1914. It is the end of England's brief Edwardian summer, and everyone agrees that the weather has never been so beautiful. Hugh Grange, down from his medical studies, is visiting his Aunt Agatha, who lives with her husband in the small, idyllic coastal town of Rye. Agatha's husband works in the Foreign Office, and she is certain he will ensure that the recent saber rattling over the Balkans won't come to anything. And Agatha has more immediate concerns; she has just risked her carefully built reputation by pushing for the appointment of a woman to replace the Latin master.

When Beatrice Nash arrives with one trunk and several large crates of books, it is clear she is significantly more freethinking—and attractive—than anyone believes a Latin teacher should be. For her part, mourning the death of her beloved father, who has left her penniless, Beatrice simply wants to be left alone to pursue her teaching and writing.

But just as Beatrice comes alive to the beauty of the Sussex landscape and the colorful characters who populate Rye, the perfect summer is about to end. For despite Agatha's reassurances, the unimaginable is coming. Soon the limits of progress, and the old ways, will be tested as this small Sussex town and its inhabitants go to war.
This book was sent to Compass Book Ratings for review by Random House
The Summer Before the War
by Helen Simonson
Overall Review:
The Summer Before the War, by New York Times Bestselling author Helen Simonson, is a moving piece of historical fiction. Fans of Simonson's previous hit, Major Pettigrew's Last Stand, will particularly enjoy The Summer Before the War, as the two share the same clever wit and dialogue. Simonson is a remarkable author and has a quiet beauty in her words. While the novel is brimming with subtle humor, there are also many touching and poignant phrases. Readers will be entranced by Simonson's ability to capture small town England, particularly East Sussex, in the 1910's. The book's characters are interesting, yet flawed, and their journey through a time of great unrest is unforgettable. It is important to note that the title is a bit misleading -- the story does begin in the months before World War I, but continues into wartime and beyond. The Summer Before the War is highly recommended!
Review of an Advance Reader's Copy
Content Analysis:
Profanity/Language: 14 religious exclamations; 6 mild obscenities; 1 scatological word; 1 anatomical term.
Violence/Gore: Multiple secondhand reports of violence involving battle and battle wounds, the American Civil War and World War I, an airplane crash, the archduke assassination and a child being struck by an adult. Brief scenes of violence include catching a rabbit in a trap and a fist fight. In a non-detailed scene of violent death, a dog is shot point blank and a mortar shell kills several individuals. A scene of blood and gore occurs in a description of hospitals and surgery.
Sex/Nudity: Several incidents of kissing a character's hand or cheek; a few non-sexual depictions of nudity involving a woman sunbathing and posing for nude pictures; a few veiled sexual references regarding homosexuality; an incident of reported sexual activity as a young woman alludes to being raped, causing her to become pregnant.
Mature Subject Matter:
War, death of family members and friends, war crimes and refugees, reference to rape and suicide, veiled references to homosexuality.
Alcohol / Drug Use:
Characters frequently drink and smoke cigars and pipes; underage smoking; a character is described as "an inebriated young man".
Reviewed By Rachel