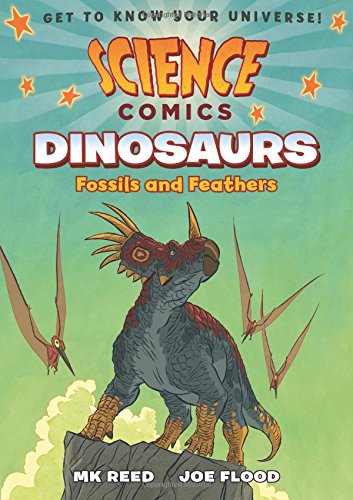 Publisher's Note:
Every volume of Science Comics offers a complete introduction to a particular topic--dinosaurs, coral reefs, the solar system, volcanoes, bats, flying machines, and more. These gorgeously illustrated graphic novels offer wildly entertaining views of their subjects. Whether you're a fourth grader doing a natural science unit at school or a thirty-year-old with a secret passion for airplanes, these books are for you!
This volume: in Dinosaurs, learn all about the history of paleontology! This fascinating look at dinosaur science covers the last 150 years of dinosaur hunting, and illuminates how our ideas about dinosaurs have changed--and continue to change.
This book was sent to Compass Book Ratings for review by First Second Books
Science Comics: Dinosaurs: Fossils and Feathers
by MK Reed
Overall Review:
Science Comics: Dinosaurs: Fossils and Feathers, is one of two books recently released in the Science Comics series with more to come later in the year.
Junior paleontologists hold on to your shovels as this latest book in the Science Comic series deals with the history of dinosaur fossils and the people who discovered and studied them. From William Smith to Jack Horner, author MK Read and illustrator Joe Flood chronicle the discoveries of these unearthed scientific treasures from era to era to inform readers about these amazing findings and what it tells us about the past.
Though the book does identify some scientific terms, this is more of a history lesson or a brief overview of the fossil hunters' themselves, rather than a teaching of the prehistoric era and the creatures who lived. It breaks down a lot of information about a myriad of different of people. At times there are some rough transitions that readers may wonder if they accidentally skipped a page, but this seems to be the author's way of going from one time period to the next while still referencing a previous point.
While some fossil finders get six or more pages of coverage, others get only a panel or two. Personally, this reviewer would have liked to see the book focus on one discoverer/discovery rather than a try to insert and overview of so many uncoverings in what seems to be insufficient space.
This may be a good read for elementary children as Science Comics: Dinosaurs: Fossils and Feathers, merges history and science together in a non-traditional text that this age range may appreciate.
Content Analysis:
Profanity/Language: None
Violence/Gore: 4 panels render ancient animal dying/being killed (non-graphic); character is struck by lightning; a few depictions of ancient animals eating each other; character kicks another character; portrayal of characters throwing rocks at one another; depictions of character firing a gun; ancient animals fight amongst themselves.
Sex/Nudity: None
Mature Subject Matter:
Death/extinction, evolution.
Alcohol / Drug Use:
A few depictions of adults drinking what appears to be alcohol.
Reviewed By MaryLou