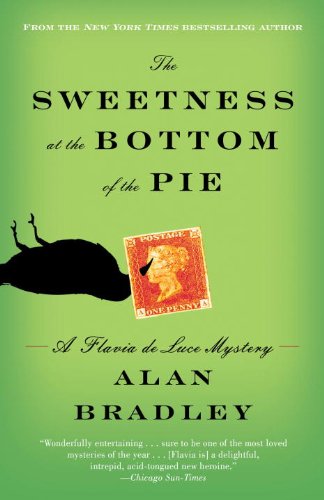 Publisher's Note:
It is the summer of 1950–and at the once-grand mansion of Buckshaw, young Flavia de Luce, an aspiring chemist with a passion for poison, is intrigued by a series of inexplicable events: A dead bird is found on the doorstep, a postage stamp bizarrely pinned to its beak. Then, hours later, Flavia finds a man lying in the cucumber patch and watches him as he takes his dying breath. For Flavia, who is both appalled and delighted, life begins in earnest when murder comes to Buckshaw. "I wish I could say I was afraid, but I wasn't. Quite the contrary. This was by far the most interesting thing that had ever happened to me in my entire life."
This book was sent to Compass Book Ratings for review by Bantam
The Sweetness at the Bottom of the Pie
by Alan Bradley
Overall Review:
In this slightly dark, very funny mystery novel, the protagonist, Flavia de Luce, is in fact an eleven-year-old girl who is wise beyond her years. This sneaky, precocious chemistry genius is admirable for her bold sleuthing, and she keeps you turning the pages. The author, Alan Bradley, is actually a man in his seventies. Hence while the Flavia is a youth, the voice is a bit more literary than a juvenile mystery book. It's as if we're pedaling our bikes right there beside her as she races to find the next clue. Nancy Drew definitely wears Flavia de Luce pajamas.
Content Analysis:
This story involves a murder, a kidnapping, and a suicide. So enter the violence and mature themes here. I don't want to elaborate for fear of ruining the suspense. But again, it's all written from the perspective of an excited eleven-year-old sleuth so details are more good-humored than graphic—she's just the facts, ma'am.
As far as language goes, Flavia loves a good beaver dam and sprinkles them more than a few times throughout the novel, but it's not over the top.
Mature Subject Matter:
***
Alcohol / Drug Use:
***
Reviewed By SqueakyCleanReads