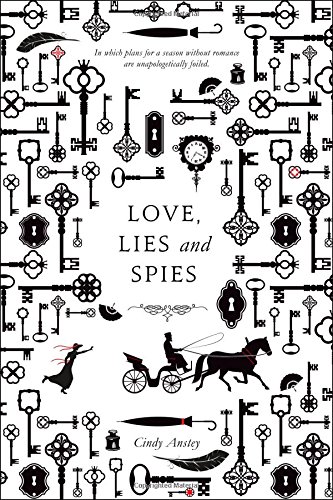 Publisher's Note:
In Love, Lies and Spies, Cindy Anstey's hilarious homage to Jane Austen, a lady with a penchant for trouble finds a handsome spy much more than merely tolerable.
Juliana Telford is not your average nineteenth-century young lady. She's much more interested in researching ladybugs than marriage, fashionable dresses, or dances. So when her father sends her to London for a season, she's determined not to form any attachments. Instead, she plans to secretly publish her research.
Spencer Northam is not the average young gentleman of leisure he appears. He is actually a spy for the War Office, and is more focused on acing his first mission than meeting eligible ladies. Fortunately, Juliana feels the same, and they agree to pretend to fall for each other. Spencer can finally focus, until he is tasked with observing Juliana's traveling companions . . . and Juliana herself.
This book was sent to Compass Book Ratings for review by Swoon Reads
Love, Lies and Spies
by Cindy Anstey
Overall Review:
Love, Lies and Spies by Cindy Anstey is a must read for Jane Austen fans. This young adult historical romance hits all the right notes: humor, style, dialogue, banter, characterization--plus a bonus in the form of spy activity. Although it is an ode to Jane Austen, Ms. Anstey does gently nudge up the romance meter a bit for modern readers. Another nice touch is that the reader is privy to the male love interest's perspective; that is not normally something one sees in this style of novel, and it made the read that much more enjoyable.
If readers enjoyed Sorcery & Cecilia, Keeping the Castle, or Edenbrooke (although one particular part of Love, Lies and Spies won't feel a surprise if you have read Edenbrooke), then they will all adore Love, Lies and Spies.
Feeling a bit guilty for having so much fun reading it, but with a title and cover like this, what isn't to love?
Review of an Uncorrected Digital Galley
Content Analysis:
Profanity/Language: 1 religious exclamation; 1 mild obscenity.
Violence/Gore: Secondhand report of someone getting a "thumpin"; evidence someone has been in a fight (bruised lip, dried blood); characters give chase, shot at, tackle other; brief scene involving gunshots, scuffling, pushing; kidnapping; man grabs a woman, slaps, inflicts minor injuries; character hits another character in head with a rock; ~1 page long fist fight with some description and blood mentioned; character punches another character.
Sex/Nudity: Male character touches a female characters "bottom" as he passes (unwanted attention): male forces unwanted attention on female by groping, kissing (non-detailed description); male character notices a females "bosom"; character kisses top of head (romantic); characters' knees touch; character kisses another's hand multiple times; description of a passionate kiss between characters; characters are attracted to each other in many instances such as thinking about kissable lips, imagining embracing, romantic thoughts, feelings of attraction, thinking they would like to share long passionate nights.
Mature Subject Matter:
Gambling, debt, reason, smuggling, discrimination (against women).
Alcohol / Drug Use:
Adults drink socially; an adult is drunk.
Reviewed By Cindy