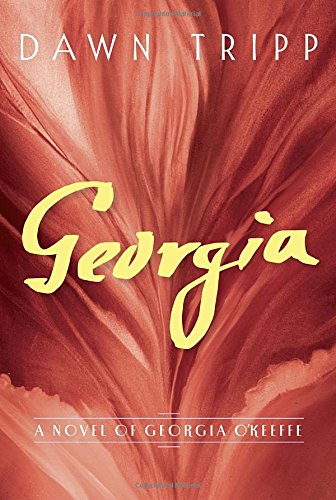 Publisher's Note:
In a dazzling work of historical fiction in the vein of Nancy Horan's Loving Frank, Dawn Tripp brings to life Georgia O'Keeffe, her love affair with photographer Alfred Stieglitz, and her quest to become an independent artist.

This is not a love story. If it were, we would have the same story. But he has his, and I have mine.

In 1916, Georgia O'Keeffe is a young, unknown art teacher when she travels to New York to meet Stieglitz, the famed photographer and art dealer, who has discovered O'Keeffe's work and exhibits it in his gallery. Their connection is instantaneous. O'Keeffe is quickly drawn into Stieglitz's sophisticated world, becoming his mistress, protégé, and muse, as their attraction deepens into an intense and tempestuous relationship and his photographs of her, both clothed and nude, create a sensation.

Yet as her own creative force develops, Georgia begins to push back against what critics and others are saying about her and her art. And soon she must make difficult choices to live a life she believes in.

A breathtaking work of the imagination, Georgia is the story of a passionate young woman, her search for love and artistic freedom, the sacrifices she will face, and the bold vision that will make her a legend.
This book was sent to Compass Book Ratings for review by Random House
Georgia: A Novel of Georgia O'Keeffe
by Dawn Tripp
Overall Review:
Geoergia O'Keeffe was never someone I was interested in or knew much about. My sister liked her artwork, and I remember my grandma talking about how O'Keeffe's work was considered sexual in some ways. Somehow I think people get the wrong impression about Ms. O'Keeffe, or at least I did. Instead of her art being directly influenced by a woman's body, or something obscene, I think it was simply what she saw in her mind's eye. Perhaps that was what the author of this book wanted to imply, or maybe it is true, but reading this book, that is the impression I received.
Georgia O'Keeffe was a strong and feminine woman. If she were alive today and in her prime, she surely would have been in the "feminist" group. Not knowing much about Georgia in the first place didn't make me dislike this book. Instead author Dawn Tripp made the life of a well-known artist into a thing of more beauty. The author may have taken some liberties with what was said or what exactly happened in certain situations, but I believe she tried to stay as close to the truth as possible.
One thing I find remarkable about Ms. O'Keeffe, and which was touched upon a bit in this novel, is how she was actually quite well-known while she was still living--unlike some artists who are only discovered and their work appreciated after their death. If you are fascinated by the art world, love O'Keeffe's art, or are simply looking for a good book to read with a strong woman at its center, this book will keep you reading until the very end.
Review of an Advance Reader's Copy
Content Analysis:
Profanity/Language: 2 mild obscenities; 2 derogatory names.
Violence/Gore: A parent is mentioned to have passed away; a character is sick and coughs up blood in one brief scene; a character is reported to have fallen and died; a minor is in a canoe on rough water when it capsizes and they drown.
Sex/Nudity: A brief sex scene is implied to occur; adults kiss multiple times; a man undresses a woman and kisses her; a woman models nude and a man paints her; an unmarried couple swims nude; an adult couple is mentioned to make love; a man and woman touch each other in a sexual way; an adult couple is briefly described to have sex in two scenes with no explicit details; mentions of nude portraits of a woman are made.
Mature Subject Matter:
Death of a loved one, marriage tensions, divorce, extramarital affairs, war.
Alcohol / Drug Use:
Adult smoking.
Reviewed By Lydia