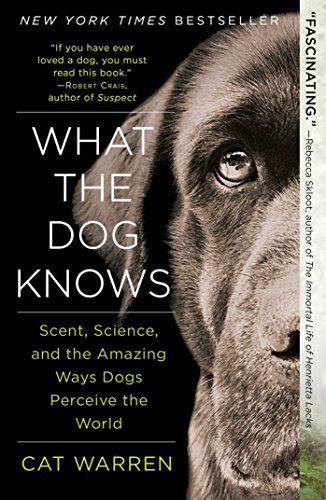 Publisher's Note:
A firsthand exploration of the extraordinary abilities and surprising, sometimes life-saving talents of "working dogs"—pups who can sniff out drugs, find explosives, even locate the dead—as told through the experiences of a journalist and her intrepid canine companion, which The New York Times calls "a fascinating, deeply reported journey into the…amazing things dogs can do with their noses."

There are thousands of working dogs all over the US and beyond with incredible abilities—they can find missing people, detect drugs and bombs, pinpoint unmarked graves of Civil War soldiers, or even find drowning victims more than two hundred feet below the surface of a lake. These abilities may seem magical or mysterious, but author Cat Warren shows the science, the rigorous training, and the skilled handling that underlie these creatures' amazing abilities.

Cat Warren is a university professor and journalist who had tried everything she could think of to harness her dog Solo's boundless energy and enthusiasm…until a behavior coach suggested she try training him to be a "working dog." What started out as a hobby soon became a calling, as Warren was introduced to the hidden universe of dogs who do this essential work and the handlers who train them.

Her dog Solo has a fine nose and knows how to use it, but he's only one of many astounding dogs in a varied field. Warren interviews cognitive psychologists, historians, medical examiners, epidemiologists, and forensic anthropologists, as well as the breeders, trainers, and handlers who work with and rely on these intelligent and adaptable animals daily. Along the way, Warren discovers story after story that prove the capabilities—as well as the very real limits—of working dogs and their human partners. Clear-eyed and unsentimental, Warren explains why our partnership with working dogs is woven into the fabric of society, and why we keep finding new uses for the wonderful noses of our four-legged friends.
What the Dog Knows: Scent, Science, and the Amazing Ways Dogs Perceive the World
by Cat Warren
Overall Review:
What the Dog Knows by Cat Warren is written for a specific crowd: a crowd of dog lovers. That is a definite prerequisite to enjoying this book. If you have a dog who you are just bonkers about, this book is for you, or if you have some sort of connection to working dogs. Warren writes about her experiences with her working dog, Solo, whom she trained to be a cadaver dog. Warren is an excellent writer, with a background in teaching creative nonfiction and science journalism; then she is a dog-handler "on the side"--although cadaver dogs seem to be her real passion.
This book is funny and fun, but also extremely instructive. Readers will learn much about cadaver dogs and everything pertaining to it, and will find themselves captivated the entire time. Don't be surprised if by the end of the book you are slightly tempted to be a cadaver dog handler. Warren shows the hard things of the job, but also manages to make this type of volunteer work seem quite alluring.
Content Analysis:
Profanity/Language: 1 religious exclamation; 8 mild obscenities; 2 religious profanities; 5 derogatory names; 12 scatological words; 5 anatomical terms.
Violence/Gore: A puppy bites a person on the hand (a small bite); a couple of pages of history on dogs eating dead bodies, not graphic; a couple of stories are told in which dead bodies are found (not graphic but a bit disturbing); a serial murder case is described with gruesome but factual details, a couple of pages; a case is mentioned where a man raped and buried a college student; a murder case is discussed without gruesome details; a gruesome murder is described in factual details, a couple paragraphs; a collapse of a building is described in which it killed and injured almost 30 people; pieces of cadaver are briefly described a couple of times; a gruesome scene is briefly described, including a piece of a child's body; a violent scene is portrayed, some gruesome details with life-threatening injuries, no deaths; a dead body is mentioned; a dead body is briefly described; several raped and murder crimes are briefly mentioned; murder/rape cases are briefly discussed in a presentation; different types of damage to corpses is briefly described and listed; throughout the book, different human body parts are found in relation to training, or in relation to different cases; several pages of a story about serial rapes and murders, not graphic; a paragraph about a bunch of unarmed military men who were killed; a killed military member's remains are mentioned, not graphic; a dog is mentioned to have bitten his handler at least a hundred times; a dog searches for soldiers whose bodies were destroyed by IEDs; it is described how working dogs are sometimes targeted by Taliban and others; several people are killed when military members attempt to recover two dead paratroopers; an IED is said to have killed a person and severely injured a dog; many people are said to have disappeared in a natural disaster.
Sex/Nudity: A dog's sexual behavior is mentioned a couple of times; a reproductive organ is mentioned in passing; prostitution is mentioned.
Mature Subject Matter:
Death, murder, war, death of family member, rape, death and murder of children, illegal drugs, prostitution.
Alcohol / Drug Use:
There is discussion about working dogs who find illegal drugs.
Reviewed By Amber