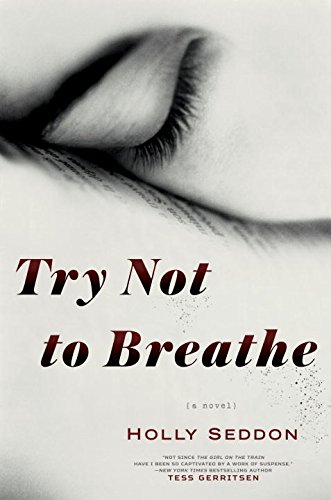 Publisher's Note:
For fans of Gillian Flynn, Laura Lippman, and Paula Hawkins comes Holly Seddon's arresting fiction debut—an engrossing thriller full of page-turning twists and turns, richly imagined characters, and gripping psychological suspense.

Some secrets never die. They're just locked away.

Alex Dale is lost. Destructive habits have cost her a marriage and a journalism career. All she has left is her routine: a morning run until her body aches, then a few hours of forgettable work before the past grabs hold and drags her down. Every day is treading water, every night is drowning. Until Alex discovers Amy Stevenson. Amy Stevenson, who was just another girl from a nearby town until the day she was found unconscious after a merciless assault. Amy Stevenson, who has been in a coma for fifteen years, forgotten by the world. Amy Stevenson, who, unbeknownst to her doctors, remains locked inside her body, conscious but paralyzed, reliving the past.

Soon Alex's routine includes visiting hours at the hospital, then interviews with the original suspects in the attack. But what starts as a reporter's story becomes a personal obsession. How do you solve a crime when the only witness lived but cannot tell the tale? Unable to tear herself away from her attempt to uncover the unspeakable truth, Alex realizes she's not just chasing a story—she's seeking salvation.

Shifting from present to past and back again, Try Not to Breathe unfolds layer by layer until its heart-stopping conclusion. The result is an utterly immersive, unforgettable debut.
This book was sent to Compass Book Ratings for review by Ballantine Books
Try Not to Breathe: A Novel
by Holly Seddon
Overall Review:
Try Not To Breathe is being heralded as the next The Girl on the Train--and for good reason. Like The Girl on the Train, this book is told from multiple viewpoints, it is delightfully thrilling with plenty of plot twists, and the main character seems to be a woman who is haunted by something in her past. Lots of similarities, but there are plenty of differences also. For a debut, Holly Seddon has really set the tone for her career as a writer.
I was a little leery of starting this book at first, simply because I didn't know how creepy it would be and if I could handle it at this time in my life. Usually I really like dark books, but lately they have been causing me to be paranoid. So, I was happy to discover that this book wasn't overly scary. Don't get me wrong, it isn't happy-go-lucky in the least, but it definitely isn't Stephen King.
There were a few things in this book that seemed quite far-fetched, but it is fiction after all, so I will let them slide. I thought the story moved along quite well and kept me on the edge of my seat the whole time. One thing I really liked about this book was how the author seemed to invite you inside the heads of her characters, so you felt like you were living their lives with them. Even one of her more complicated characters had a big part to play in the story, and narrated her pieces quite well, though it seemed as though she might be forced not to have any say in how things played out. This was a really great read, and I hope it gets the broad audience it deserves!
Review of an Advance Reader Copy
Content Analysis:
Profanity/Language: 12 religious exclamations; 6 mild obscenities; 1 derogatory name; 7 scatological words; 1 anatomical term; 20 F-word derivatives. Note: "bloody" used as a curse word, but not tallied.
Violence/Gore: An attempted murder is reported, a young woman is reported to be found beaten and in a coma as a result; a minor girl is reported missing; a sex offender is mentioned in conjunction with child abuse; a man is reported to have killed himself; a minor girl has bruises and may have sustained sexual abuse in an attack (under investigation); a minor girl has choke marks on her neck; a woman is afraid someone might be breaking into her house in one brief scene; a brief descriptive scene is given of a minor found who has been missing, she has been sexually violated and is unconscious.
Sex/Nudity: A minor-aged boy and girl touch and kiss; a minor is mentioned to have had a bet to be the first one in her group of friends to lose her virginity, rumors go around that this may have occurred; porn is mentioned; an unmarried couple is living together; a couple is mentioned to have unprotected sex, no explicit details mentioned; talk of losing virginity; a woman says she works with sex workers to help them get a better life; sexual violation of a minor is reported and briefly described with some detail; sex is discussed in a mature way; a brief descriptive scene is given of a minor found who has been missing, she has been sexually violated and is unconscious.
Mature Subject Matter:
Divorce, personal crises, sexual asault, missing persons.
Alcohol / Drug Use:
A woman has a drinking problem; this same woman drinks wine every day; cigarette smoke mentioned; getting drunk mentioned; health issues because of alcohol dependence mentioned.
Reviewed By Lydia