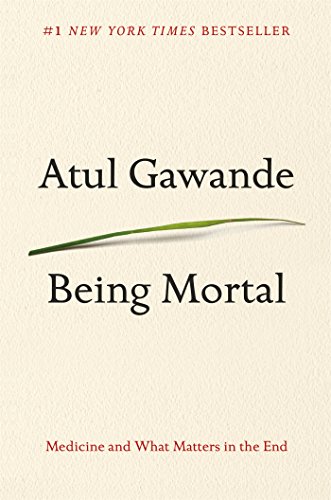 Publisher's Note:
In Being Mortal, bestselling author Atul Gawande tackles the hardest challenge of his profession: how medicine can not only improve life but also the process of its ending

Medicine has triumphed in modern times, transforming birth, injury, and infectious disease from harrowing to manageable. But in the inevitable condition of aging and death, the goals of medicine seem too frequently to run counter to the interest of the human spirit. Nursing homes, preoccupied with safety, pin patients into railed beds and wheelchairs. Hospitals isolate the dying, checking for vital signs long after the goals of cure have become moot. Doctors, committed to extending life, continue to carry out devastating procedures that in the end extend suffering.
Gawande, a practicing surgeon, addresses his profession's ultimate limitation, arguing that quality of life is the desired goal for patients and families. Gawande offers examples of freer, more socially fulfilling models for assisting the infirm and dependent elderly, and he explores the varieties of hospice care to demonstrate that a person's last weeks or months may be rich and dignified.
Full of eye-opening research and riveting storytelling, Being Mortal asserts that medicine can comfort and enhance our experience even to the end, providing not only a good life but also a good end.
Being Mortal: Medicine and What Matters in the End
by Atul Gawande
Overall Review:
Being Mortal: Medicine and What Matters in the End is a fascinating book. Author and surgeon Atul Gawande tackles the tough subject of death, dying, and end of life care, but in an easy-to-read and informative manner. While Dr. Gawande admits that no one ever wants to talk about dying, he explains the importance of these conversations through patient anecdotes and his own personal experiences seeing his father die from cancer. Dr. Gawande also details many research studies, as well as explaining the advantages and disadvantages of hospice and assisted living facilities. The book includes four vital questions readers should ask themselves in regards to their own future and end of life care. While Being Mortal may seem bleak and somber, readers will find its information vital, making it a must-read book.
Content Analysis:
Profanity/Language: 3 religious exclamations; 4 mild obscenities; 1 derogatory name.
Violence/Gore: A few secondhand reports of violence including an auto-pedestrian accident and drunk driver crash; brief non-detailed scene of violent death involving a fire at a nursing home and a suicide.
Sex/Nudity: A sexual reference regarding types of books and movies.
Mature Subject Matter:
Death of family members and friends, disease, aging, discussion of suicide and assisted suicide.
Alcohol / Drug Use:
Patients use prescribed narcotics.
Reviewed By Rachel