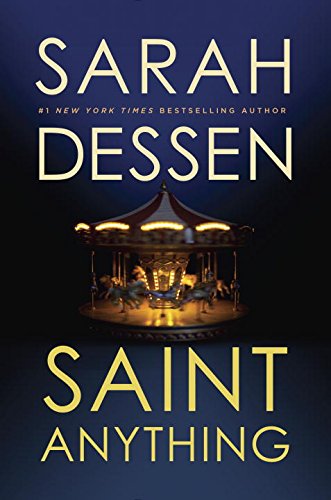 Publisher's Note:
A New York Times bestseller

"Saint Anything is a poignant, honest story about how we might suffer the misfortune of someone else's bad choices, how people who love us can become family when we desperately need it, and how starting over might - miraculously - mean taking a solid leap forward." —Jodi Picoult, New York Times bestselling novelist of Leaving Time and My Sister's Keeper

Sydney has always felt invisible. She's grown accustomed to her brother, Peyton, being the focus of the family's attention and, lately, concern. Peyton is handsome and charismatic, but seems bent on self-destruction. Now, after a drunk-driving accident that crippled a boy, Peyton's serving some serious jail time, and Sydney is on her own, questioning her place in the family and the world.

Then she meets the Chatham family. Drawn into their warm, chaotic circle, Sydney experiences unquestioning acceptance for the first time. There's effervescent Layla, who constantly falls for the wrong guy, Rosie, who's had her own fall from grace, and Mrs. Chatham, who even though ailing is the heart of the family. But it's with older brother Mac—quiet, watchful, and protective—that Sydney finally feels seen, really seen, at last.

Saint Anything is Sarah Dessen's deepest and most psychologically probing novel yet, telling an engrossing story of a girl discovering friendship, love, and herself.
Saint Anything
by Sarah Dessen
Overall Review:
Sydney has always been in her brother's shadow. Even after his many mistakes land him in prison, she feels him hanging over everything. In an effort to escape some this weight, she decides to make a change and switch schools. It is there that she is drawn into a group of friends that will change her life, and her perceived place in it, forever.
Saint Anything by Sarah Dessen is a heart-warming, and sometimes wrenching, coming of age story. Our main character, Syndey, is achingly relatable, as are all the supporting players in her world. There isn't one character whom you can look at and not see someone you know. Dessen does a beautiful job weaving together many diverse and authentic personalities into a cohesive narrative that keeps the reader fixated.
Dessen's writing style is refreshingly realistic, and makes the reader feel as if they have been dropped into someone's life, not reading a piece of fiction. Her adolescent characters are very believable in their conversations and interactions, and lack the mild condescensions or overblown sophistry that are found in some other young adult novels. The tone she sets is one of near complete realism, making the story that much more relatable to the reader.
Saint Anything is a thoroughly engrossing novel that touches that small part of all of us that, at one time or other, has felt invisible.
Content Analysis:
Language/Profanity: 28 mild religious exclamations; 10 mild obscenities; 5 derogatory names; 2 anatomical terms, 1 offensive hand gesture.
Violence/Gore: Many references to a car accident where someone was injured; character bumps into another; several references of delinquent activity; character pulls on another's arm, causing her to stumble; character imagines arms being ripped off; character hit by misthrown grape; character hits another with a berry; character bit by a small dog; character burns fingers on a toaster pastry; boy and girl engage in a small pillow fight; character hits head; character sees a child fall off a couch; character feared another would fall in pit; girl attacked by older man; girl slaps man; man puts another man in a headlock; references to injuries; character suffers from illness and is hospitalized a few times; joking reference to castration.
Sex/Nudity: Many scenes depicting adolescent relationships, including kissing, hand-holding, cuddling and touching (face, arms, knee, etc.); depictions of familial affections (kissing, hugging, etc.); one instance of a girl being kissed against her will; reference to a movie cover featuring kissing.
Mature Subject Matter:
Substance abuse, terminal illness and injury, illegal activity, family, friendship, accountability, trust, guilt, relationships, independence.
Alcohol / Drug Use:
Drug and alcohol abuse is a major theme throughout the book, as such, there are many references to both, as well as several scenes depicting underage drinking.
Reviewed By Amberle