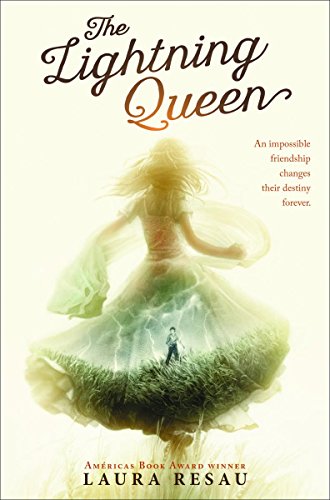 Publisher's Note:
Nothing exciting happens on the Hill of Dust, in the remote mountains of Mexico in the 1950s. There's no electricity, no plumbing, no cars, just day after day of pasturing goats. And now, without his sister and mother, eleven-year-old Teo's life feels even more barren. And then one day, the mysterious young Esma, who calls herself the Gypsy Queen of Lightning, rolls into town like a fresh burst of color. Against all odds, her caravan's Mistress of Destiny predicts that Teo and Esma will be longtime friends. Suddenly, life brims with possibility. With the help of a rescued duck, a three-legged skunk, a blind goat, and other allies, Teo and Esma must overcome obstacles-even death-to fulfill their impossible destiny. Inspired by true stories derived from rural Mexico, The Lightning Queen offers a glimpse of the encounter between two fascinating but marginalized cultures--the Rom and the Mixtec Indians--while telling the heart-warming story of an unlikely friendship that spans generations.
This book was sent to Compass Book Ratings for review by Scholastic
The Lightning Queen
by Laura Resau
Overall Review:
Laura Resau's latest novel, The Lightening Queen, is a wonderful, intriguing story that draws the reader in from the very beginning. It is a magical tale of tradition, love of family, overcoming prejudices, and the bonds of lifelong friendship. It is masterfully woven together with a lyrical style of writing that makes it hard to put this novel down. The characters are written in a way that the reader feels what they are feeling and learns to hope and hurt for them. Resau artfully writes this tale so that one comes away wanting more, as well as having learned a little about what lies inside each of us. Throughout the novel there are bits of wisdom thrown in, usually in the way of advice from an elder relative, but done so that the reader will want to apply it to their own life. For example, this was said by one of the main characters: "If you believe you're weak, you'll be weak. You're cursing yourself. Yet if you believe you're strong, you'll be strong. Give yourself a fortune [meant to be as a gypsy fortune from fortune telling] and make it come true."
Set mostly in rural Mexico, Esme and Teo are two young people that are brought together from two completely different worlds. Both have dealt with their share of loss and prejudices at their young age, but both are able to find good and happiness in the world as they forge their own way, whether it be through music or caring for an interesting menagerie of animals. Destined to be lifelong friends, they each save the other in different ways, helping the other on their lifelong path. Also part of the tale is Teo from the current day, grandson of the original Teo. He is learning from his grandfather's story and in the end brings it full circle, completing the tale of lifelong friendship and love.
If you are looking for a magical tale, that is different from most books out there, The Lightning Queen by Laura Resau is one for you. It will take you on an unforgettable journey, not because it is an escape, but because it is something that will stick with you, something that you can relate to, and something from which you come away feeling like you can be a better person.
Content Analysis:
Profanity/Language: None
Violence/Gore: Description given by a character of a family member drowning (2); character gets smacked/hit on the head by a family member (5); secondhand account of character getting struck by lightning; secondhand account of people throwing stones at others; secondhand account of someone being hit by a car and left to die; secondhand account of someone dying in childbirth; account of getting hit by a ruler as an act of discipline (2); secondhand account of someone lighting a camp on fire with the intent to do harm.
Sex/Nudity: Two characters hold hands (2); two characters hug (3); two characters kiss briefly.
Mature Subject Matter:
Mentally ill family member, death of family member, young teenage marriage mentioned, near-death experience.
Alcohol / Drug Use:
Elderly woman smokes a pipe; liquor given for medicinal purpose.
Reviewed By Sally