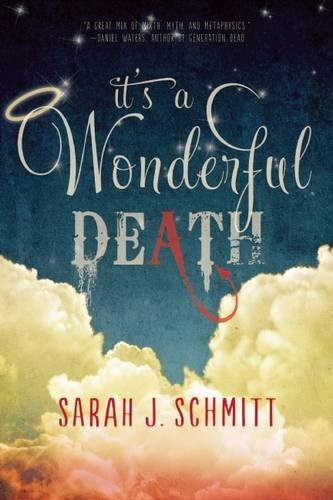 Publisher's Note:
Seventeen-year-old RJ always gets what she wants. So when her soul is accidentally collected by a distracted Grim Reaper, somebody in the afterlife better figure out a way to send her back from the dead or heads will roll. But in her quest for mortality, she becomes a pawn in a power struggle between an overzealous archangel and Death Himself. The tribunal presents her with two options: she can remain in the lobby, where souls wait to be processed, until her original lifeline expires, or she can replay three moments in her life in an effort to make choices that will result in a future deemed worthy of being saved. It sounds like a no-brainer. She'll take a walk down memory lane. How hard can changing her future be?

But with each changing moment, RJ's life begins to unravel, until this self-proclaimed queen bee is a social pariah. She begins to wonder if walking among the living is worth it if she has to spend the next sixty years as an outcast. Too quickly, RJ finds herself back in limbo, her time on Earth once again up for debate.

RJ is a snarky, unapologetic, almost unredeemable, very real girl. Her story is funny and moving, and teens will easily connect with her plight. Prepare to meet the Grim Reaper, who's cuter than you'd expect; Hawaiian shirt–wearing Death Himself; Saint Peter (who likes to play Cornhole); and Al, the handler for the three-headed hound that guards the gates of Hell. This cast of characters accompanies RJ through her time in the afterlife and will do their best to gently shove her in the right direction.
This book was sent to Compass Book Ratings for review by Sky Pony Press
It's a Wonderful Death
by Sarah J. Schmitt
Overall Review:
Humorously irreverent and over-loaded with heart, Sarah J. Schmitt's It's a Wonderful Death is a young adult novel with vast appeal. Pitched by the publisher as Mean Girls meets It's a Wonderful Life, though fairly accurate, doesn't justly prepare one for this dark comedy.
It is narrated by teen protagonist RJ, a selfish teen obsessed with popularity. With little to no redeeming qualities, RJ must fight hard to prove her life is worth saving after being accidentally nabbed by a Grim Reaper. Her passion, thoughtful rendering, and snarky remarks are entertaining, but what really humanizes RJ is the wide range of supporting characters that move the story along and reveal her true nature. Readers can't help but like this misguided character, who, progressively becomes totally relatable.
There is little time for sentiments, as the story starts off fast and keeps the comedic pace going strong until more than three-quarters into the novel; that's when things start getting serious and the tissues may have to come out for full-time use.
Ms. Schmitt twists mainstream Christianity, Greek mythology, and a few other religious beliefs to shape an erratic afterlife. As stated, the novel is a bit irreverent, but it is a playful humor that should not give offense. For example, St. Peter enjoys playing cornhole with the keeper of the underworld, Death wears a Hawaiian shirt, and a Tribunal angel is a bit of an egomaniac. If Lauren Oliver's, Before I Fall, was rewritten into a comedy it may slightly resemble It's a Wonderful Death.
With Ally Carter-like appeal, author Sarah J. Schmitt connects with the reader by creating a fun and insightful environment and forming sincere character relationships that truly affect the reader.
This is definitely a "need to read" for those who enjoy sarcasm mixed with sentimentality.
Content Analysis:
Profanity/Language: 2 mild obscenities. Hell is used several times (less than 20) in its proper term; damnation is used once in its proper form.
Violence/Gore: Mild portrayal of dead body, depiction of blood and bruise; mention of car accident; mention of character committing suicide because of bullying (this suicide is mentioned a few times throughout the novel); extended scene (about 1 page) character explains how they died in a car accident and another character was injured (non-graphic); secondhand mention of a character receiving a beating from classmates; character threatens to let her/his dog bite another character; character makes an idle threat to kill another character; character is shoved kicked and threatened; character is pushed down scraping knee, blood mentioned; bully character tries punching another character hurting themself; character is hit by car, injuries mentioned.
Sex/Nudity: Mention of kiss; kiss; mention of teen character becoming pregnant; hug; memory of a kiss; few (5 or less) sexual references; few mentions of character's parent having an extramarital affair; character remembers kiss; kiss on head; mention of kiss; kiss on cheek, reassuring hand hold, with hug; kiss.
Mature Subject Matter:
Death of a friend, teen suicide, accidental death, terminal illness, bullying.
Alcohol / Drug Use:
Teen characters drink wine coolers and mention a keg; mention of underage characters who are caught smoking; teen character remembers attending a party where alcohol is consumed; mention of tequila bottles.
Reviewed By MaryLou