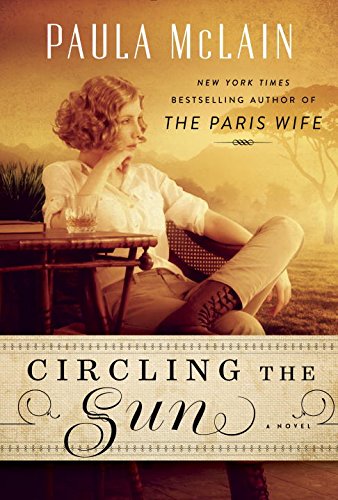 Publisher's Note:
Paula McLain, author of the phenomenal bestseller The Paris Wife, now returns with her keenly anticipated new novel, transporting readers to colonial Kenya in the 1920s. Circling the Sun brings to life a fearless and captivating woman—Beryl Markham, a record-setting aviator caught up in a passionate love triangle with safari hunter Denys Finch Hatton and Karen Blixen, who as Isak Dinesen wrote the classic memoir Out of Africa.
Brought to Kenya from England as a child and then abandoned by her mother, Beryl is raised by both her father and the native Kipsigis tribe who share his estate. Her unconventional upbringing transforms Beryl into a bold young woman with a fierce love of all things wild and an inherent understanding of nature's delicate balance. But even the wild child must grow up, and when everything Beryl knows and trusts dissolves, she is catapulted into a string of disastrous relationships.
Beryl forges her own path as a horse trainer, and her uncommon style attracts the eye of the Happy Valley set, a decadent, bohemian community of European expats who also live and love by their own set of rules. But it's the ruggedly charismatic Denys Finch Hatton who ultimately helps Beryl navigate the uncharted territory of her own heart. The intensity of their love reveals Beryl's truest self and her fate: to fly.
Set against the majestic landscape of early-twentieth-century Africa, McLain's powerful tale reveals the extraordinary adventures of a woman before her time, the exhilaration of freedom and its cost, and the tenacity of the human spirit.
This book was sent to Compass Book Ratings for review by Ballantine Books
Circling the Sun
by Paula McLain
Overall Review:
Circling the Sun is a beautifully written novel. Set during the 1920's in breathtaking Kenya, the novel follows the early life of adventurer Beryl Markham. Beryl is a complex character and author Paula McLain uses Beryl's autobiography, West with the Night, as well as additional research to highlight the heroine's strength and courage in the African wilderness.
McLain is a masterful author, painting thrilling African landscapes with her vivid wording and colorful descriptions. A secondary cast of memorable characters, from Beryl's horse-training father to her best friend and native Kipsigis tribe member Ruta, keeps the plot authentic and interesting. For a remarkable trip to the Africa without the cost of a plane ticket, try Circling the Sun!
Content Analysis:
Profanity/Language: 11 religious exclamations; 18 mild obscenities; 1 religious profanity; 4 derogatory names; 2 scatological words; 1 anatomical term.
Violence/Gore: Several secondhand reports of violence involving war and death in battle, airplane crashes, stabbings, and wild animal attacks; a few brief scenes of violence occur when a child is attacked by a lion and characters fistfight; in a brief, non-detailed scene of violent death, a plane crash kills two characters.
Sex/Nudity: Multiple incidents of kissing; a non-sexual depiction of nudity when a character gets out of the bath; a few sexual references regarding "common law wives" and extra-marital affairs; a few incidents of reported sexual activity between characters, including a scene with "swingers"; a few incidents of touching areas covered by a bathing suit; a few mature discussions regarding sex; several incidents of sexual activity without explicit detail between adults; a brief, yet explicit description of sex with nudity between adults.
Mature Subject Matter:
Abandonment, WWI, death of a friend, underage drinking, drug use, multiple references to a character receiving an abortion, miscarriage, mention of suicide and mental health disorders, extra-marital affairs, "common-law wives" and "swingers".
Alcohol / Drug Use:
Characters frequently drink and several are referred to as "drunk"; underage drinking occurs frequently; a scene occurs where several characters use cocaine.
Reviewed By Rachel