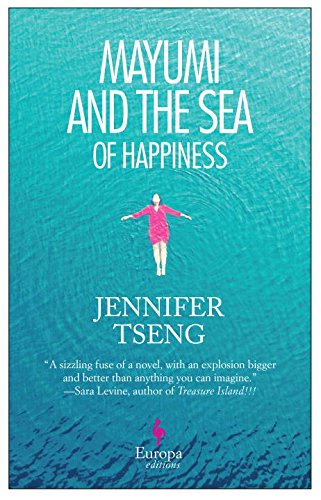 Publisher's Note:
Books may be Mayumi Saito's greatest love and her one source of true pleasure. Forty-one years old, disenchanted wife and dutiful mother, Mayumi's work as a librarian on a small island off the coast of New England feeds her passion for reading and provides her with many occasions for wry observations on human nature, but it does little to remedy the mundanity of her days. That is, until the day she issues a library card to a shy seventeen-year-old boy and swiftly succumbs to a sexual obsession that subverts the way she sees the library, her family, the island she lives on, and ultimately herself.

Wary of the consequences of following through on her fantasies, Mayumi hesitates at first. But she cannot keep the young man from her thoughts. After a summer of overlong glances and nervous chitchat in the library, she finally accepts that their connection is undeniable. In a sprawling house emptied of its summer vacationers, their affair is consummated and soon consolidated thanks to an explosive charge of erotic energy. Mayumi's life is radically enriched by the few hours each week that she shares with the young man, and as their bond grows stronger thanks not only to their physical closeness but also to their long talks about the books they both love, those hours spent apart seem to Mayumi increasingly bleak and intolerable. As her obsession worsens, in a frantic attempt to become closer to the young man, Mayumi nervously befriends another librarian patron, the young man's mother. The two women forge a tenuous friendship that will prove vital to both in the most unexpected ways when catastrophe strikes.

Exquisitely written, Mayumi and the Sea of Happiness is part wry confession, part serious meditation. At its most anxious, it's a book about time, at its most ecstatic, it's a deeply human story about pleasure.
Mayumi and the Sea of Happiness
by Jennifer Tseng
Overall Review:
Before I even picked up this book, I knew I would have a good chance of adoring it. After all, the main character, Mayumi, is a librarian in a small island town. I like books about small towns by big bodies of water. I also like books that are about books. So I had a feeling I was in good hands. And it turns out, my instincts were rightt--mostly.
Mayumi Saito is what I think of as your typical librarian. She loves books and talking about them. She loves her job of being able to work with books and smell books. She loves her patrons that she sees every day--and one patron in particular. This patron that Mayumi singles out isn't someone she would typically notice, and that is what is intriguing about this book. I didn't read this book to be pulled into an unconventional love story though. I'm not really into romance. No, I read it because Mayumi seemed a lot like me, and for the most part, I felt like I could relate to her.
The parts I couldn't relate to were Mayumi falling into and out of love. I'm not sure if she was going through a midlife crises, and I'm sure lots of people can side with her and reciprocate her feelings, but I just wasn't feeling it. The parts of this book I enjoyed the most were when Mayumi narrated bits of information about her job at the library, or when she was recommending a book to a reader. You'd think I'd be sick of thinking about books, but I feel like I fall more and more in love with them every day. If you feel this too, don't hesitate to pick up Mayumi and the Sea of Happiness. You may just find that your adoration of books and librarians grows beyond what you thought was possible!
Content Analysis:
Profanity/Language: 12 religious exclamations; 2 mild obscenities; 4 scatological words; 1 F-Word derivatives.
Violence/Gore: A car crash is referred to, a minor shows a scar he got from it; a character mentions her parents are dead; a character ponders death; a character is reported to die in a car accident, no detail is given.
Sex/Nudity: An adult woman pursues a relationship with a minor; a minor boy kisses an adult woman; an adult woman kisses a minor boy; an adult couple kisses; an adult woman and a minor are mentioned to be sexually active, this relationship and sex is depicted three times where they meet up and make love, touch and caress, undress in front of each other, kiss; an adult kisses a minor in a sexual way; a woman desires to kiss and make love to a man; a woman mentions having no sexual feeling for her husband; a married woman and an unmarried minor lay in bed, kiss; a priest is mentioned to be sexually involved with a minor; a minor is mentioned to look hot, sexy; a woman worries she will be accused of molestation because of her affair with a minor; a woman's breasts are described in some brief detail; a woman undresses for her lover; a woman wants to seduce a man and make love to him; incest and sex are referred to in a book that a character is reading.
Mature Subject Matter:
Extra-marital affairs, death, adult/minor sex, personal crises.
Alcohol / Drug Use:
An adult woman smokes a cigarillo; a minor chews tobacco n several instances; adults drink wine; cigarette smoke is smelled; a character is referred to as a "stoner"; marijuana use is mentioned.
Reviewed By Lydia