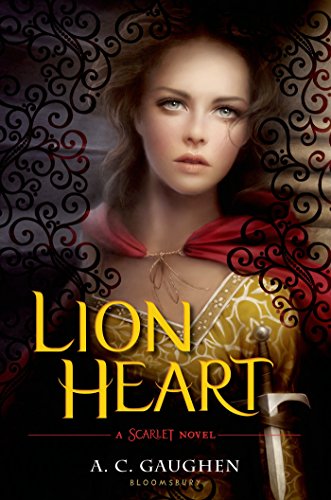 Publisher's Note:
Scarlet has captured the hearts of readers as well as the heart of Robin Hood, and after ceaseless obstacles and countless threats, readers will finally find out the fate of the Lady Thief.
Imprisoned by Prince John for months, Scarlet finds herself a long way from Nottinghamshire. After a daring escape from the Prince's clutches, she learns that King Richard's life is in jeopardy, and Eleanor of Aquitaine demands a service Scarlet can't refuse: spy for her and help bring Richard home safe. But fate-and her heart-won't allow her to stay away from Nottinghamshire for long, and together, Scarlet and Rob must stop Prince John from going through with his dark plans for England. They can not rest until he's stopped, but will their love be enough to save them once and for all?
This book was sent to Compass Book Ratings for review by Bloomsbury Children's Books
Lion Heart
by A.C. Gaughen
Overall Review:
Jumping right in where Lady Thief ended, Lion Heart continues this beloved Robin Hood tale. As we discovered in Lady Thief, Scarlet is incapable of giving up. No matter the circumstances, even though often bleak, she has stamina like no other. Her resilience reminded me a bit of Celaena from Sarah Maas's Throne of Glass series. Many of the characters from the first two books are in this as well but the focus shifts to new supporting characters so we get to know some of those characters better. A.C. Gaughen's character development is absolutely fantastic. You'll love the good guys, and the bad guys like Prince John and his lackeys who continue to be as horrible as one would expect. Those who enjoy the Robin Hood tale or pine for an epic love story won't be able to put this down. Lady Thief was my favorite of the three books, an excellent wrap up of the Scarlet trilogy!
Content Analysis:
Profanity/Language: 27 religious exclamations; 37 mild obscenities; 2 religious profanities; 11 derogatory names; 4 anatomical terms.
Violence/Gore: Many (40) brief incidents including character has dirt thrown at him; verbal threats; characters think another is dead; metaphor--"sliced into belly"; talking about hanging; secondhand reports of murder and planning murder; war stories; reference to character getting fingers cut-off; second hand report that character had face cut; riots mentioned; reference to a city and residents getting burned; charred bodies found; secondhand report of torture; reference to fight; character's father hit her resulting in no injury; character cut hands on rope; characters fighting with little resulting injury; riots; character kneed in private parts; characters getting whipped; character throws and breaks chair; attempted murder; murder; accidental death; attempted rape(non-detailed).
Sex/Nudity: Many (45) incidents including hugging; kissing; holding hands; cuddling; arm around; character thinks about touching another; reference to character cheating on another character; reference to attempted rape; song about kissing; innuendo; female character remembers sleeping next to male character; female touched male character's chest; attempted rape (non-detailed); implied sex (adults).
Mature Subject Matter:
Attempted rape, murder, war.
Alcohol / Drug Use:
Character makes reference to getting drunk; characters drink alcohol with dinner; character gets drunk.
Reviewed By Jenny