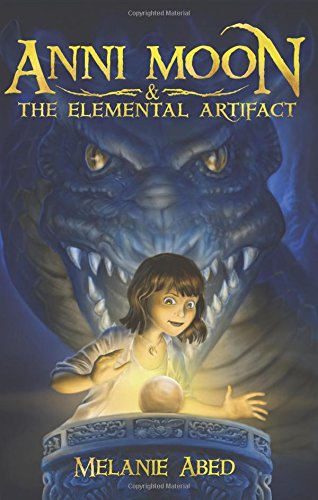 Publisher's Note:
Anni doesn't know about Elementals, Funk, Zephyrs, excited talking Bat-Rat creatures, and least of all, Dragons. All that changes when her best friend Lexi is kidnapped and forces beyond Anni's control trap her on a hidden, floating island in the Elemental world.
In a race against time, Anni sets out to save her friend. Along the way, she finds allies among the Elementals, but she is also presented with a choice, one that might help save Lexi. If Anni agrees to an ancient, open-ended contract, will her sacrifice cost her more than she's bargained for? Or will it land her in the middle of an age-old war between the humans, Elementals, and the dreaded Fectus?
This book was sent to Compass Book Ratings for review by Oculus Print
Anni Moon and the Elemental Artifact: An Elemental Fantasy Adventure
by Melanie Abed
Overall Review:
Anni Moon and the Elemental Artifact by Melanie Abed is the first book in the Anni Moon Series. Anni's world is completely turned upside down when her best friend Lexi is kidnapped by the Fectus, an evil magical group of Elementals. Anni's journey to rescue her friend will take her to places she never could have imagined.
Anni was a bit of a difficult book to get through, with many aspects of the book leaving the reader confused. Unlike most novels with a "steam punk" style, Anni takes place in modern day. However, it takes several chapters for that fact to be confirmed and until then there are conflicting references never letting the reader find firm footing in a time period.
Abed fills the book with many diverse and wonderful characters. Our main character of Anni is a plucky, loyal, and an altogether likable young girl. One can't help but root for her as she tries everything she can think of, with the help of her new friends, to try and save her best friend. The author's main supporting characters have distinct and well-balanced personalities that compliment Anni perfectly. There are many different characters in this book and they are all introduced within a handful of chapters, making it difficult to keep them all straight. Especially since minor or unimportant characters seem to be present quite often while important characters will disappear for chapters at a time.
Despite a slow beginning, Anni Moon and the Elemental Artifact is a fun read. Abed immerses the reader in beautiful, magical world that feels as full and real as the human world the main character leaves behind. Complete with politics, legends, and sometimes tragic history, the Elemental world is a solid and fascinating place. By the end the reader cannot help but find themselves fully invested in Anni and her quest, turning the pages furiously to see how it will end.
Content Analysis:
Profanity/Language: None
Violence/Gore: Character drops a text book on foot; adolescent twist another adolescent's arm; several reports of missing/presumed dead people; adolescent runs into an elderly person; adolescent is kidnapped; many references to an evil magical force; magic forcefield knocks adolescents to the ground; adolescent is put in a magic box and dropped down a trash chute; reference to a magical purging of earth; adolescent nearly drowns; magical traveling make characters sick; character is pinned beneath attic stairs; magical baby is kidnapped; secondhand reference to many magical beings dying; lights made out of magical beings souls; reference to evil queen ripping evil out magical beings' souls; reports of evil creatures killing children; adolescent magically dragged through the street (humorous); adolescent and magical creature drink a potion that makes them sick; adolescents turn into animals and fight; mildly graphic depiction of a dying magical creature; evil magic makes many people sick; adolescent is tripped and threatened with violence; force causes magical beings to collapse.
Sex/Nudity: None
Mature Subject Matter:
Death of a family member, abuse, evil, politics, social conflict.
Alcohol / Drug Use:
Adolescent and magical creature drink a potion that makes them sick.
Reviewed By Amberle