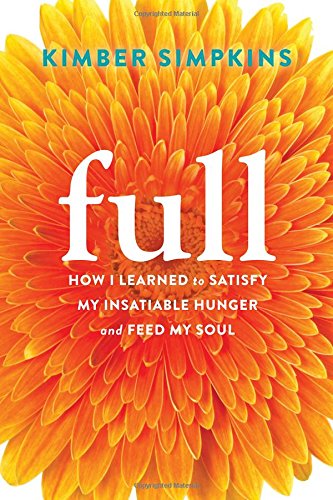 Publisher's Note:
Full is the true, poignant story of one woman's spiritual journey as she recovers from anorexia, eases the emotional pain of her hunger through yoga and Buddhism, and finally becomes full.
In this inspiring and captivating memoir, Kimber Simpkins captures vividly—with piercing insight, raw emotion, and often humor—the all-consuming hunger she felt on a daily basis as a result of an eating disorder. Sick of dieting and hating her body, Simpkins decides to get to the bottom of her unhappy relationship with her body. That's when she discovers the healing power of yoga and Buddhism.
Along the way, Simpkins realizes her hunger isn't simply physical, but that it comes from a place deep inside her. Through the wise teachings of yoga and meditation, Simpkins discovers she doesn't have to live in a prison of self-dissatisfaction. In fact, by understanding the root of her pain and learning to love herself in body, mind, and spirit, Simpkins is able to truly set herself free.
As she wrestles with her inner demons of hunger and perfectionism and learns how self-acceptance can soften even her toughest inner critic, Simpkins takes us along on her voyage of self-discovery. At its core, this book is a journey to find true self-fulfillment that will inspire readers in their own search to create a full and meaningful life.
Full: How I Learned to Satisfy My Insatiable Hunger and Feed My Soul
by Kimber Simpkins
Overall Review:
If I could write a book and make it as beautiful and helpful as this one, I would. Kimber Simpkins isn't perfect, but her voice is. She tells her story of pain, fear, and ultimately, triumph, in such a way that gave me hope. I wish I could have her hug me and tell me that everything is going to be all right because I would believe her.
Coming from a childhood that wasn't necessarily unhappy, Kimber begins this book with a recollection of her years struggling with self-hatred and anorexia. I know what it is like to be "plagued" with anorexia. I know how the desire to have a cause-and-effect-reasoning can overcome you. After all, there must be some reason for this loathing, this desire to make yourself as tiny as possible, right? Well, maybe. But so far I haven't been able to pinpoint it, and Kimber never really does either. One thing she does know is that she is sick and tired of feeling sick and tired. And so, instead of sitting around wasting away and feeling sorry for herself, she searches for ways to heal.
Sometimes the first step is the hardest. Often during her quest for bettering herself, Kimber feels hopeless, in pain, and like maybe it's easier to just give in to the little voice telling her not to eat. However, through hard work, yoga, and dedication...and a lot of telling that little voice to shut up...Kimber is able to carry on with her life, and not only live, but live fully. This book is inspiring and wonderful. Even if you don't struggle with your eating and health habits, it is a book every woman should read at some point; you never know what you might learn from it.
Content Analysis:
Profanity/Language: 3 religious exclamations; 11 mild obscenities; 4 derogatory names; 2 scatological words; 3 anatomical terms; 1 offensive hand gesture; 2 F-Word derivatives.
Violence/Gore: A car crash almost occurs; a minor contemplates suicide.
Sex/Nudity: An adult man forces a kiss on a female minor; the female recalls this incident and refers to it as "near rape"; a group of minor girls joke about men's private parts; movies are mentioned to have "over stimulating sex scenes" with no description or detail; a woman mentions ending up "naked in her date's arms" at the end of the night; a couple is mentioned to have had sex, no detail is given; a woman is referred to as "sexy"; a man is mentioned to touch a child in a way that is referred to as "molestation"; lesbians are referred to; lesbian lovers are referred to; a woman is mentioned to stay the night at a man's house (sex implied); a woman is depicted massaging oil into her skin in one briefly descriptive scene; nude public baths are mentioned; menstruation is mentioned once.
Mature Subject Matter:
Mental instability, self-harm, eating disorders.
Alcohol / Drug Use:
An alcoholic is referred to in a hypothetical situation; a minor drinks wine in France.
Reviewed By Lydia