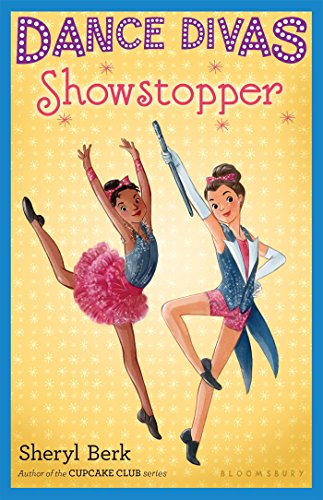 Publisher's Note:
Anya is just getting used to being the newest member of the Dance Divas when her parents want her to move back home to L.A. to study dance "more seriously," which means she may have to say goodbye to Divas forever. The timing couldn't be worse. City Feet is back with a vengeance at the Smooth Moves Competition in Las Vegas. Without Anya, Miss Toni has to reshuffle the entire group number at the last minute (good thing it's called "Deck of Cards"!). Meanwhile, mean Justine has a few tricks up her sleeve: her group dance is a magic act that promises to make all the competition disappear! Who will win? And what will happen to Anya?
The sixth book in this dance series has everyone on their feet.
This book was sent to Compass Book Ratings for review by Bloomsbury Children's Books
Dance Divas Showstopper
by Sheryl Berk
Overall Review:
Dance Divas Showstoppers is the 5th book in the Dance Divas series by Sheryl Black. The book picks up where the last one left off, so reading them in order would be best. This series would appeal to younger dancers, but not many others. However, if they have a love of dancing, this is right up their alley.
Showstoppers follows six girls that form a dance team intent on winning a major competition in Las Vegas. Along the way they deal with the drama that stereotypically comes with a group of young girls. They also have personal problems that come up and must be dealt with. The question is can they pull together to not only win the competition, but more importantly beat their arch enemies City Feet?
While it was a cute, fun read, it is heavy on the 'girl' drama. And each of the girls fits into a stereotype, which leaves little room for character development. There is not much depth to the story or characters, but this series would certainly appeal to a young dancer who has stars in her eyes.
Content Analysis:
Profanity/Language: None
Violence/Gore: Character injured in a car accident.
Sex/Nudity: Husband and wife kiss.
Mature Subject Matter:
None
Alcohol / Drug Use:
None
Reviewed By Sally