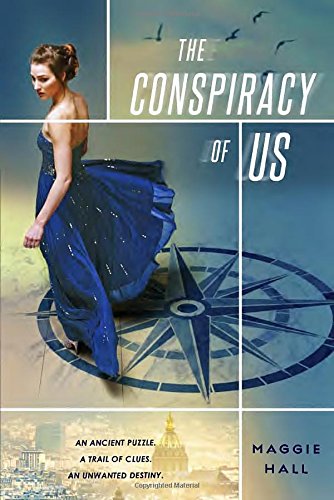 Publisher's Note:
A fast-paced international escapade, laced with adrenaline, glamour, and romance--perfect for fans of Ally Carter

Avery West's newfound family can shut down Prada when they want to shop in peace, and can just as easily order a bombing when they want to start a war. Part of a powerful and dangerous secret society called the Circle, they believe Avery is the key to an ancient prophecy. Some want to use her as a pawn. Some want her dead.

To unravel the mystery putting her life in danger, Avery must follow a trail of clues from the monuments of Paris to the back alleys of Istanbul with two boys who work for the Circle—beautiful, volatile Stellan and mysterious, magnetic Jack. But as the clues expose a stunning conspiracy that might plunge the world into World War 3, she discovers that both boys are hiding secrets of their own. Now she will have to choose not only between freedom and family--but between the boy who might help her save the world, and the one she's falling in love with.
This book was sent to Compass Book Ratings for review by G.P. Putnam's Sons Books for Young Readers
The Conspiracy of Us
by Maggie Hall
Overall Review:
Maggie Hall, debut author of The Conspiracy of Us, initially asks a lot of her readers. The reader is asked to make a enormous leap in accepting the plausibility of protagonist Avery's initial decisions about her willingness to go with people and accept horrific actions that should probably induce a complete emotional breakdown. However, readers who can make that leap are in for a thrilling and fun read that takes the characters to exotic locations and plunges them into exciting chase scenes. This novel is a bit like a mash-up of National Treasure and a Bourne Identity movie with a dash of The DaVinci Code. (In fact, young adult readers who enjoyed the 39 Clues Series when they were younger might find this a nice step up.) Alongside the conspiracy/thriller action are Avery's romantic interests, which receive prominent page time and are a significant part of this book. Ms. Hall dangles a lot of tidbits, but never reveals the complete picture as she twists the knot on her plot right up to a cliffhanger-style ending. The Conspiracy of Us is the first in a conceived trilogy, and it promises to be a gripping journey.
Content Analysis:
Profanity/Language: 21 religious exclamations; 3 mild obscenities; 2 anatomical terms.
Violence/Gore: Verbal threats and threats with weapons; extended multi-page scene in which character is attacked with a knife involving struggling, hitting with objects, falling, resulting in a injury with mention of blood and a death by gunshot and a severing of head with description of dripping and pooling blood, etc.; character kills another by stabbing in chest with knife, mention of blood; chase scene in which there is shooting, minor injury from a cut with mention of blood, falling objects, etc.; report of death of family members in an accident; report of general attacks and killing of various people and of an unborn child; non-detailed report of a parent; report of execution of an employee that violated rules; dried blood is scene; hands cut for a ritual, mention of dripping blood; character accidentally cuts self, mention of blood; gunshots heard, death implied; extended scene involving punching, stabbing, chasing, etc.
Sex/Nudity: Several instances of innuendo; character overheard saying that a boy was "invited into EmmaBeth's pants"; report that a character's mother became pregnant in college; reference to seduction, someone being hot, knocked-up, etc.; one character infers/suspects that someone is homosexual; reference to individuals being found "together"; character repeatedly notices the physical appearance of a couple of other characters and finds them attractive; characters hold hands; characters kiss passionately (~ 1 page); characters embrace; character runs fingers through another character's hair; character says they can't tell if they are trying to "sleep with me"; female (age 16) and a male (unspecified, but perhaps a little older) wearing sleepwear share a bed and intimately caress each other on the arm, neck, chest, etc. in a descriptive and detailed multi-page (~5 pages) scene; characters kiss passionately.
Mature Subject Matter:
Death, assassination, politics, conspiracies, kidnapping/hostages.
Alcohol / Drug Use:
Adults smoke and drink; teenager smokes; smoking and drinking occurs at a dance club, ages of characters are unspecified.
Reviewed By Cindy