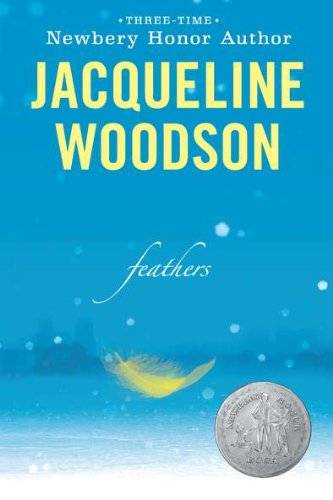 Publisher's Note:
A beautiful and moving novel from a three-time Newbery Honor-winning author

"Hope is the thing with feathers" starts the poem Frannie is reading in school. Frannie hasn't thought much about hope. There are so many other things to think about. Each day, her friend Samantha seems a bit more "holy." There is a new boy in class everyone is calling the Jesus Boy. And although the new boy looks like a white kid, he says he's not white. Who is he?
During a winter full of surprises, good and bad, Frannie starts seeing a lot of things in a new light—her brother Sean's deafness, her mother's fear, the class bully's anger, her best friend's faith and her own desire for "the thing with feathers."
Jacqueline Woodson once again takes readers on a journey into a young girl's heart and reveals the pain and the joy of learning to look beneath the surface.
Feathers
by Jacqueline Woodson
Overall Review:
Jacqueline Woodson's prose and Emily Dickinson's poetry blend perfectly in this beautiful, sweet story of hope, friendship, and family. Readers who enjoy thinking characters will love Frannie, who doesn't see herself as a thinker, but ends up as quite a philosopher.
As a fifth-grader who observes and listens, Frannie has a lot to think about. Young readers who are also trying to figure out who they are and where they fit in will relate to her introspection and tendency to feel she isn't who she wants to be. Frannie doesn't fully metamorph into a butterfly--yet--but she has hope, and she understands what it is. That's a fantastic message to carry to a generation of youth who tend to want all the answers now.
Although the protagonist is quite young, the concepts in this book are deep enough that readers her own age might not fully grasp them. I'd recommend it for slightly older readers who will enjoy looking back on late elementary school years and comparing themselves to Frannie.
I came away with a deeper understanding of Dickinson's classic poem, "Hope is the thing with feathers," and recommend this poignant, quick read to anyone who can use a little more hope in their lives.
Content Analysis:
Profanity/Language: 1 religious exclamation (quoted).
Violence/Gore: A bully is known to hit peers; a character is known to thump children on the head with her bible.
Sex/Nudity: None
Mature Subject Matter:
Death of a family member, adoption, racism, bullying.
Alcohol / Drug Use:
None
Reviewed By Leslie