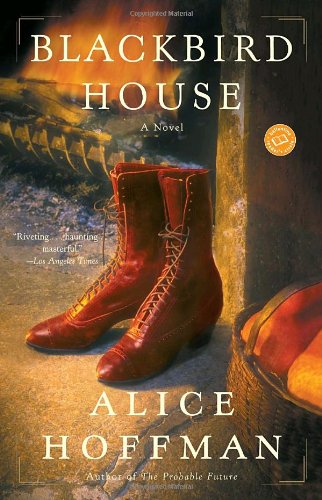 Publisher's Note:
With "incantatory prose" that "sweeps over the reader like a dream," (Philadelphia Inquirer), Hoffman follows her celebrated bestseller The Probable Future, with an evocative work that traces the lives of the various occupants of an old Massachusetts house over a span of two hundred years.

In a rare and gorgeous departure, beloved novelist Alice Hoffman weaves a web of tales, all set in Blackbird House. This small farm on the outer reaches of Cape Cod is a place that is as bewitching and alive as the characters we meet: Violet, a brilliant girl who is in love with books and with a man destined to betray her; Lysander Wynn, attacked by a halibut as big as a horse, certain that his life is ruined until a boarder wearing red boots arrives to change everything; Maya Cooper, who does not understand the true meaning of the love between her mother and father until it is nearly too late. From the time of the British occupation of Massachusetts to our own modern world, family after family's lives are inexorably changed, not only by the people they love but by the lives they lead inside Blackbird House.

These interconnected narratives are as intelligent as they are haunting, as luminous as they are unusual. Inside Blackbird House more than a dozen men and women learn how love transforms us and how it is the one lasting element in our lives. The past both dissipates and remains contained inside the rooms of Blackbird House, where there are terrible secrets, inspired beauty, and, above all else, a spirit of coming home.

From the writer Time has said tells "truths powerful enough to break a reader's heart" comes a glorious travelogue through time and fate, through loss and love and survival. Welcome to Blackbird House.
Blackbird House
by Alice Hoffman
Overall Review:
Do you ever start a book and just know that you are going to love the entire thing? Something about the promising way it begins, the writing style, the tone--that's the way I felt when I started Blackbird House. It's been a while since I picked up a book by Alice Hoffman. I think I have read all of the books by her on our library shelves, so I kind of forgot about her temporarily. Then I ran across an audio version of Blackbird House, and thought I would give it a try.
Alice Hoffman has a way of writing books full of stories that are connected in some way, but not always in an obvious way. In this book, readers follow the life of a house, rather than the life of a character, or family. Of course, it doesn't really feel like that when one is reading it, but when I arrived at about the halfway point in this book, I realized I wasn't consuming stories of random characters. No, they were all connected by a few things, one of them being a house--and not just any old house either. This building has a lot of history and memories inside it; it has seen more than the occupants know, or could ever imagine. Taking the reader from the distant past, to the present, the inhabitants of Blackbird House will charm and entertain.
I really enjoyed this book, and if you like stories by authors such as Sarah Addison Allen or Ann Patchett, this book may be the perfect fit. Because of the perfect mixture of realistic fantasy and fiction this book has to offer, there were several times when I thought that this book might be a good one for a high-schooler who is looking for a way to branch out and read books outside of the teen section, but once I finished it, I thought better of it (See Violence/Core content detail below). However, Blackbird House makes for the perfect read for an adult that is not quite ready to grow up.
Content Analysis:
Profanity/Language: 1 religious exclamation; 8 mild obscenities; 2 derogatory names; 1 scatological word; 2 F-Word derivatives.
Violence/Gore: A woman slaps her daughter's face; a loved one is mentioned to have died at sea; a character imagines tragedies that might befall him at sea; men die at sea, no bodies are found; a young character watches some of his family members die in a boat wreck at sea; a house is destroyed in a fire, casualties are mentioned; dead whale bodies are briefly described; a woman fears her husband will abuse her; a woman is mentioned to be expected to "get rid of" a baby; a man is mentioned to have drunk himself to death; a car accident occurs in one brief scene, two characters die, one survives; war horrors are described: starvation, death, killing, inhumane living conditions; a character considers drowning self; a character is described to be scarred from abuse endured during the holocaust; a boy is mentioned to shoot seagulls and hang dogs out of spite; a boy hangs himself in one brief mention; a dead animal is briefly described; a bruised and bloody woman is briefly described, no explanation as to why she is injured; a dead character on a floor is briefly described, a group of men drag him to a pond and drown him; a girl cuts her wrists in a rage; a boy dies in a drunk driving accident in a brief mention; a ouija board is used in one brief creepy scene.
Sex/Nudity: A man is mentioned to be cheating on his wife; a woman is implied to be pregnant and give birth to an illegitimate child; a woman is briefly depicted breastfeeding her child, binding her breast to stop milk from flowing; adults kiss several times; minors are mentioned to be sexually active; a woman is mentioned to undress in front of a man, no explicit detail is given; a brief nude scene with some sexual innuendo occurs between two adults; a nude woman is observed by a minor boy in a non-sexual way; adults are implied to be sexually active.
Mature Subject Matter:
Cancer, war, holocaust, death, suicide, ghosts.
Alcohol / Drug Use:
Minors drink alcohol in secret; a man grows and smoke marijuana; adults drink; a man is mentioned to have drunk himself to death.
Reviewed By Lydia