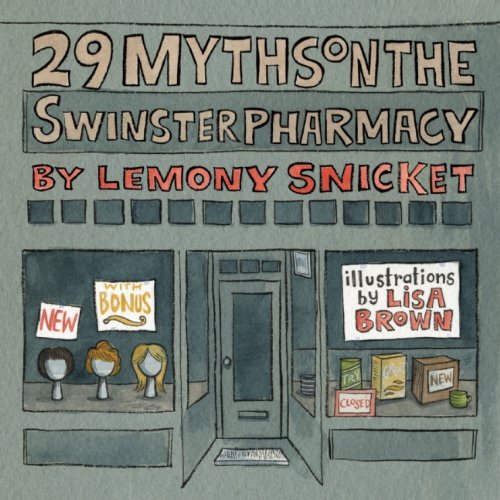 Publisher's Note:
We are very curious about the Swinster Pharmacy. We stay up late every night wondering what sort of eerie secrets it contains. Why are there three Styrofoam heads in the windows? Who is the owner? Is it really closed on weekends? Renowned investigator Lemony Snicket has compiled 29 myths about this bewildering establishment, in the vain hope that he could help us shine some light on this enduring mystery.
29 Myths on Swinster Pharmacy
by Lemony Snicket
Overall Review:
Anyone who has read a book by Lemony Snicket (aka Daniel Handler) knows that you can never be sure what to expect when you pick up one of his books. I have to say, this book is one of the most surprising and odd to-date. Let me explain. First, this book is more of a picture book than anything else, but young children will most likely not understand it. Second, adults very probably will not understand this book either. Third, the ending left me hanging and feeling a little unsettled. So choose wisely before looking within the covers of this book. It is so pretty on the outside that it may be hard to resist, but heed my warning: here be confusion!
I hope I have not turned you away with the first part of this review, because although this book may not be for everyone, there will be some curious readers out there, like me, who find this book to be entertaining and confusing at the same time. This book was equal parts story and illustration. I really studied what I was reading and seeing in an attempt to try to puzzle out just what Lemony Snicket was getting at. Despite all of my hard work, I still have not come up with an answer. All I can figure is--Mr. Snicket knows what he means, and trying to understand how his mind works may be just near impossible. Approach this book with trepidation, but find assurance in the fact that it is so short, you will hardly miss the time you lost.
Content Analysis:
Profanity/Language: None
Violence/Gore: Several brief scenes are depicted in a way that could frighten young children, or confuse them; a building burns to the ground; arson is mentioned; pets are mentioned to have gone missing.
Sex/Nudity: A kiss is offered to a child by an unseen person.
Mature Subject Matter:
Mysterious occurrences observed.
Alcohol / Drug Use:
None
Reviewed By Lydia