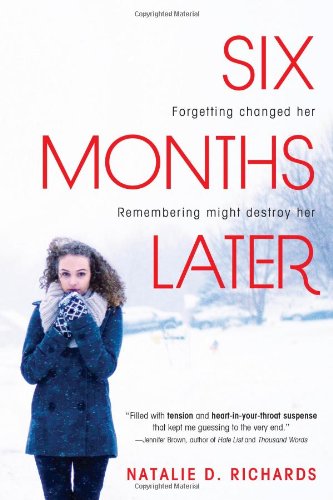 Publisher's Note:
She Has Everything She Ever Wanted. But Not Her Memory...
When Chloe fell asleep in study hall, it was the middle of May. When she wakes up, snow is on the ground and she can't remember the last six months of her life.
Before, she'd been a mediocre student. Now, she's on track for valedictorian and being recruited by Ivy League schools. Before, she never had a chance with super jock Blake. Now he's her boyfriend. Before, she and Maggie were inseparable. Now her best friend won't speak to her.
What happened to her? Remembering the truth could be more dangerous than she knows...
Six Months Later
by Natalie Richards
Overall Review:
I always try to have both an audio book I am listening to, and a physical book I am reading. I have found that I really enjoy listening to books, as long as the narrator doesn't have a voice that annoys me. I listened to an audio of Six Months Later this past week, and found I just couldn't get enough of it! Not only was the narrator marvelous, the story kept me wondering what in the world would happen to Chloe, Maggie, Blake, and Adam before the story ended.
This story begins with a bang. Chloe, who works hard to study and stay at the top of her class, wakes up at school and realizes she has lost some of her memory. And not just a small portion, a goodly chunk of it. As one can imagine, she is quite confused, and starts to see a therapist because of the trauma caused by her memory problems. Soon she realizes that although she can't remember why or how, she knows deep inside that there are people out to get her; she starts to question who is her friend and who is her enemy. The story just gets more exciting and intriguing as the book went on. Sometimes I find that young adult books are too predictable, or too similar to other books I have read in the past. Though this book had some of the same qualities as books such as If I Stay by Gayle Forman and Unremembered by Jessica Brody, it is unique in the fact that several different components are thrown into the mix, such as the relationship between plain old memory loss, and memory loss that has been forced upon you.
I really enjoyed this book about memory, friendship, loss, and love. Girls and boys alike will find that this story is enough like a mystery to keep them hooked, but also has enough science backing it that they will agree with me when I write that sometimes fiction is much closer to reality than we might think.
Content Analysis:
Profanity/Language: 5 religious exclamations; 22 mild obscenities; 8 religious profanities; 2 derogatory names; 11 scatological words; 2 anatomical terms; 8 F-Word derivatives.
Violence/Gore: A girl desires to throw an object at her boyfriend; characters steal keys to break into a house; a girl hits a boy with her fist, blood is mentioned to spurt from his nose; a young character is mentioned to have a history of crime; a character breaks into a pharmacy to steal prescription medications; a character is depicted as slumped over her desk, dead, blood is mentioned to be puddled beneath her; a character punches another resulting in a bloody nose; a car crash is described in brief detail with no casualties; a mentally ill minor is mentioned to have been found hanging from the ceiling after committing suicide, this is mentioned several times.
Sex/Nudity: A minor girl is mentioned to go streaking in her underwear; a boy touches a girls face tenderly; a girl feels guilty about being attracted to a boy who is not her boyfriend; minors hug; a girl and boy mention the desire to make out; a girl and a boy are depicted alone in a bedroom kissing in one brief scene; minors touch, caress each other with no explicit detail; minors are mentioned to be sexually active, no description is given; minors kiss multiple times.
Mature Subject Matter:
Bullying, crime, breaking and entering, mental illness, personal crises, suicide.
Alcohol / Drug Use:
A woman is mentioned to be an alcoholic; a girl suspects a boy is dealing drugs.
Reviewed By Lydia