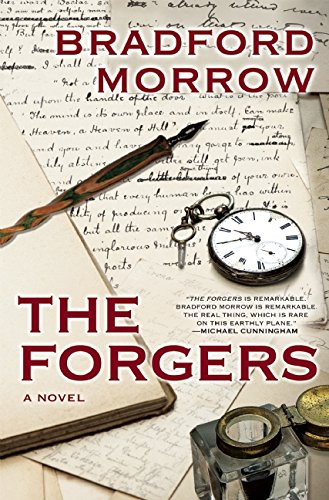 Publisher's Note:
From critically acclaimed novelist Bradford Morrow, called "a mesmerizing storyteller who casts an irresistible spell" by Joyce Carol Oates and "one of America's major literary voices" by Publishers Weekly, comes The Forgers, a richly told literary thriller about the dark side of the rare book world.

The rare book world is stunned when a reclusive collector, Adam Diehl, is found on the floor of his Montauk home: hands severed, surrounded by valuable inscribed books and original manuscripts that have been vandalized beyond repair. Adam's sister, Meghan, and her lover, Will—a convicted if unrepentant literary forger—struggle to come to terms with the seemingly incomprehensible murder. But when Will begins receiving threatening handwritten letters, seemingly penned by long-dead authors, but really from someone who knows secrets about Adam's death and Will's past, he understands his own life is also on the line—and attempts to forge a new beginning for himself and Meg. In The Forgers, Morrow reveals the passion that drives collectors to the razor-sharp edge of morality, brilliantly confronting the hubris and mortal danger of rewriting history with a fraudulent pen.
The Forgers
by Bradford Morrow
Overall Review:
Though I don't really enjoy reading old books, I find that I really enjoy reading books about old books. I love books that talk about antiquarian bookshops and the smell and feel of old books. I think antiques in general are really neat, and if the antique is a book, so much the better. If you feel the same way, then you won't want to miss The Forgers. There are certain books that book lovers will love more than a typical novel, and this is one of them. For some reason the cover just didn't call out to me, but the synopsis sure did, so I took a risk and I'm glad I did, because I loved what I read.
I am not very up to speed on the art of forgery, but I know it happens. In the world of book collectors, a book with an inscription or a signature (or both!) is a prized possession that can bring in a small fortune if you are looking to sell. So if you have the gift of being talented at forgery, and want to make a buck or two, then why not start a small business and write a few lines in an antique book and try to pass it off as legitimate? This book will give you a few reasons why not--a few of them being the fact that if you are like Will, the protagonist in The Forgers, you have a family that cares about you and wants to think the best of you. Another reason being that even though this line of work may seem fairly harmless, apparently it isn't, as a man Will knows just lost his life because of forgery. Books may seem innocent enough, but in the world of collectors, things can get a little dirty.
I thought this book was a wonderful and quick read that kept me intrigued. I'd never read anything by Bradford Morrow before, but was very pleased to find in him an author that knows how to keep his audience engaged. If you are looking for a fun and mysterious little book to read, this one is marvelous.
Content Analysis:
Profanity/Language: 2 religious exclamations; 5 mild obscenities; 1 religious profanity; 4 derogatory names.
Violence/Gore: Severed hands are mentioned to be found with no body attached; an intruder assaults a man in one brief scene, blood is mentioned to be coagulating on a floor; a charater suffers a head trauma which results in death; a murder occurs; threatening letters are received by a character; violence is implied, broken windows on a house are reported; a character feels like he is being followed, he feels threatened; a character is mentioned to have died from a terminal disease; a bloody glove is found and briefly described; a character is accused of murder; a violent scene with blood on clothes and hands and a mutilated body is briefly described; a house is broken into; a character's fingers are described to have been chopped off, blood is described.
Sex/Nudity: Condoms are mentioned to have been found in litter; making love is referred to; adults kiss.
Mature Subject Matter:
Death, cancer, murder, crime.
Alcohol / Drug Use:
Adults drink wine; adults drink alcohol.
Reviewed By Lydia