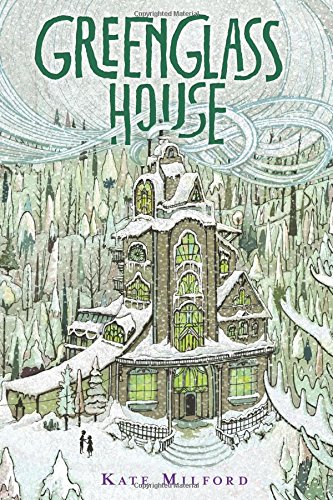 Publisher's Note:
It's wintertime at Greenglass House. The creaky smuggler's inn is always quiet during this season, and twelve-year-old Milo, the innkeepers' adopted son, plans to spend his holidays relaxing. But on the first icy night of vacation, out of nowhere, the guest bell rings. Then rings again. And again. Soon Milo's home is bursting with odd, secretive guests, each one bearing a strange story that is somehow connected to the rambling old house. As objects go missing and tempers flare, Milo and Meddy, the cook's daughter, must decipher clues and untangle the web of deepening mysteries to discover the truth about Greenglass House—and themselves.
Greenglass House
by Kate Milford
Overall Review:
If you are at a loss for a wonderful book suggestion for your preteen or young teen, either boy or girl, then Greenglass House is here to come to your aid! I didn't even have to crack the cover to get excited about the story inside. Just the cover's illustration made me feel like a little kid again and when I was introduced to The Mysterious Benedict Society, a book that pairs a bunch of smart kids at a school and a little bit of mystery into a story of wonder and intrigue for any young reader. That previous sentence can apply equally to Greenglass House. Take two mischievous kids who are bored and ready for an adventure, and you have a whole load of fun on (or should I say in!) your hands.
I have always been an admirer of old houses and buildings. (Anything that is in shambles and holds some kind of mystery, you can count me in.) This book is told from the perspective of a young boy, Milo, who has always felt a little misplaced in his life. I felt sympathetic for him from the start, as right away his plans of a quiet holiday are dashed when an unexpected guest arrives at the inn his family owns. Though the arrival of this, and other travelers, gave me a cozy feeling of being surrounded by family and being a secretive onlooker who enjoys a bit of drama, it is obvious that Milo is a little saddened that he won't get the quality time he wants with his mother and father.
I was happy for Milo when he discovered that all the hubbub didn't have to only be a bother. It could also mean fun and games, and a little bit of mystery. This book would make a wonderful opportunity for bonding among parents and children if they both take the time to read it. Really, this book would be at its best if the reader had someone to discuss it with as they went. I had a wonderful time learning about all of Milo's quirks and the secrets that his home held.
Content Analysis:
Profanity/Language: 2 mild obscenities; 1 religious profanity.
Violence/Gore: A man and woman argue and are verbally violent in front of children; a group of people are mentioned to be held hostage; an old house makes a creepy noise and a young boy is frightened; a house is mentioned to be haunted; a character is said to have died of natural causes; a character is mentioned to have been decapitated; a house's generator stops working, it is suspected to be an act of sabotage; a character in this story reads a book where a cat is killed and body parts of the cat are used in a magic spell; a haunted house is described in several brief scenes; ghosts are observed by children in a few slightly creepy scenes; a character is said to be "wanted dead"; a character threatens a group of hostages with a gun; a man fires a gun at a girl in an attempt to injure her, but misses; two people are recalled in a story to have been climbing a cliff and lose their footing, falling to their deaths.
Sex/Nudity: Adults kiss.
Mature Subject Matter:
Death, magic, ghosts, abandonment, theft of personal items.
Alcohol / Drug Use:
Whiskey is served in hot toddies; a group of adults share a bottle of wine with dinner; an elderly man smokes a tobacco pipe.
Reviewed By Lydia