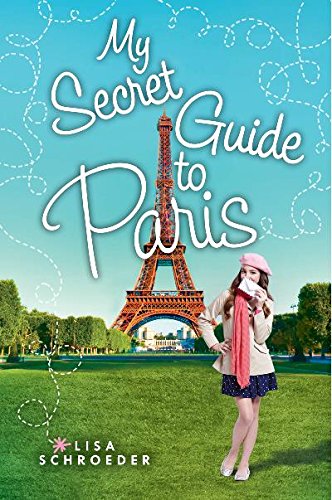 Publisher's Note:
From the author of the CHARMED LIFE and IT'S RAINING CUPCAKES series comes a novel of family, friends, and a Paris adventure that readers will never forget!

Nora loves everything about Paris, from the Eiffel Tower to chocolat chaud. Of course, she's never actually been there -- she's only visited through her Grandma Sylvia's stories. And just when they've finally planned a trip together, Grandma Sylvia is suddenly gone, taking Nora's dreams with her.

Nora is crushed. She misses her grandmother terribly, but she still wants to see the city they both loved. So when Nora finds letters and a Paris treasure map among her Grandma Sylvia's things, she dares to dream again . . .

She's not sure what her grandma wants her to find, but Nora knows there are wonderful surprises waiting for her in Paris. And maybe, amongst the croissants and macarons, she'll even find a way to heal her broken heart.
This book was sent to Compass Book Ratings for review by Scholastic
My Secret Guide to Paris
by Lisa Schroeder
Overall Review:
What to do when a family tragedy turns not only your world upside down, but your dreams as well? Nora learns just what it's like in My Secret Guide to Paris by Lisa Schroeder. This novel is a lovely journey through grief, overcoming fears, reconciliation and living a full life as Nora deals with this unexpected event. This unexpected detour leads her on a treasure hunt around Paris, France that she is forced to take with her mom, where she learns a lot about herself and her mom. This final gift from her grandmother helps Nora grow more than she ever expected.
What I loved best about My Secret Guide to Paris is that Schroeder really captures the innocent voice of a twelve year old girl. There's the naivety, awkwardness, immaturity and fear, but there's also the child-like excitement, recognition of faults, and sometimes even a little wisdom that can come with the maturing of a tween. The author's characters are deep and likable, but there is not the over-burdening of tween/teenage drama that seems to be so prevalent in middle grade novels. The other thing that comes through is the little bits of wisdom and words of encouragement that will help any twelve year old make it through the somewhat tumultuous years of middle school, all while getting a personal tour of Paris. Schroeder's descriptions and adventures would make any reader want to go and experience the City of Lights for themselves. While the main character is twelve, this book would certainly appeal to younger readers as well.
Review of an Advance Reader's Copy
Content Analysis:
Profanity/Language: None
Violence/Gore: None
Sex/Nudity: 2 teenagers of the opposite sex hold hands.
Mature Subject Matter:
Divorce, death, family estrangement.
Alcohol / Drug Use:
None
Reviewed By Sally