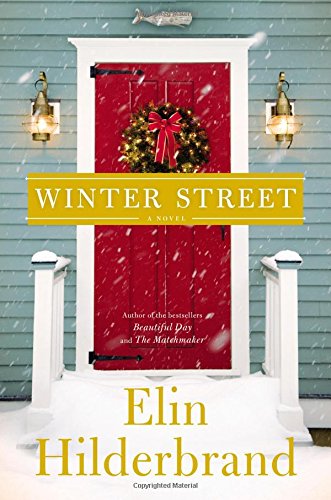 Publisher's Note:
In bestseller Elin Hilderbrand's first Christmas novel, a family gathers on Nantucket for a holiday filled with surprises.

Kelley Quinn is the owner of Nantucket's Winter Street Inn and the proud father of four, all of them grown and living in varying states of disarray. Patrick, the eldest, is a hedge fund manager with a guilty conscience. Kevin, a bartender, is secretly sleeping with a French housekeeper named Isabelle. Ava, a school teacher, is finally dating the perfect guy but can't get him to commit. And Bart, the youngest and only child of Kelley's second marriage to Mitzi, has recently shocked everyone by joining the Marines.

As Christmas approaches, Kelley is looking forward to getting the family together for some quality time at the inn. But when he walks in on Mitzi kissing Santa Claus (or the guy who's playing Santa at the inn's annual party), utter chaos descends. With the three older children each reeling in their own dramas and Bart unreachable in Afghanistan, it might be up to Kelley's ex-wife, nightly news anchor Margaret Quinn, to save Christmas at the Winter Street Inn.

Before the mulled cider is gone, the delightfully dysfunctional Quinn family will survive a love triangle, an unplanned pregnancy, a federal crime, a small house fire, many shots of whiskey, and endless rounds of Christmas caroling, in this heart-warming novel about coming home for the holidays.
Winter Street
by Elin Hilderbrand
Overall Review:
I've read as many of Elin Hildrebrand's books as I could easily get my hands on. I saw she was coming out with Winter Street and was excited, until I saw the size of the book. Most of her previous novels have been on the lengthier side, which I think is a good thing. It gives the reader time to really sink into the story and meet all of the characters, because the author is taking her time to describe everything in detail. With Winter Street, I was left feeling a bit detached from the characters and the whole story in general.
In this book, the estranged family of Kelley Quinn is all set to gather at the Winter Street Inn. The family used to be close knit, but once the four children grew up and went their own ways, married, had children...well, you can see how time would seem short and a family reunion may not happen at the snap of a finger. So Kelley has taken the Christmas holiday as an opportunity to get his family together. Little do they know what awaits them on the charming island of Nantucket. Any time a large family gathers there is going to be some type of drama. The most entertaining part of this book was probably all of the issues the family had, though at times it got a little stressful even for me, the reader, to experience.
Books about Bread & Breakfasts and Inns have always been appealing to me. Something about the combination of feeling as though I get a mini-vacation while reading the story, and getting to experience a little relaxation, albeit secondhand, usually makes for a fun read. This one was a little different, because it centered more on the life of a specific family, and not the guests and meals at the inn (some of my favorite parts of stories like this). So I was personally a little disappointed in this book, but if I went into it knowing not to expect a book I could easily fall in love with, I might have been a little less disappointed. Either way, this is a fun holiday book to read!
Content Analysis:
Profanity/Language: 7 religious exclamations; 5 mild obscenities; 1 derogatory name; 6 anatomical terms.
Violence/Gore: A character is mentioned to have died in a car crash; a car crash is mentioned with no detail; a fist fight between two characters occurs, some blood is mentioned; horror stories of war are brought up; a character goes missing in a war; a young character is suspected to have been killed in a war.
Sex/Nudity: Adults kiss multiple times; a man is mentioned to hit on women; an affair is discovered; sex is referred to several times; an unmarried couple is expecting a child; losing virginity is mentioned; a mature discussion regarding sex is had; love making between adults is briefly mentioned with no explicit detail; nude playboy models are mentioned with no description.
Mature Subject Matter:
Death, divorce, personal crises, war.
Alcohol / Drug Use:
Adults drink; cocaine use is mentioned; adults smoke; smoking pot is mentioned; the selling of drugs is mentioned; a man drinks alcohol and takes prescription drugs in an attempt to get wasted.
Reviewed By Lydia