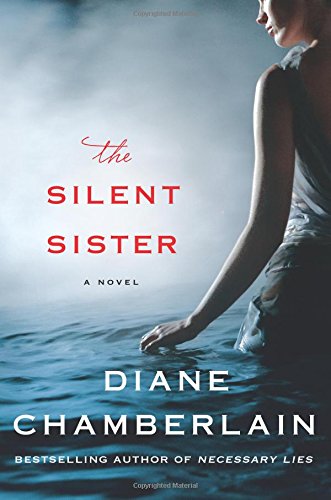 Publisher's Note:
In The Silent Sister, Riley MacPherson has spent her entire life believing that her older sister Lisa committed suicide as a teenager. Now, over twenty years later, her father has passed away and she's in New Bern, North Carolina cleaning out his house when she finds evidence to the contrary. Lisa is alive. Alive and living under a new identity. But why exactly was she on the run all those years ago, and what secrets are being kept now? As Riley works to uncover the truth, her discoveries will put into question everything she thought she knew about her family. Riley must decide what the past means for her present, and what she will do with her newfound reality, in this engrossing mystery from international bestselling author Diane Chamberlain.
The Silent Sister
by Diane Chamberlain
Overall Review:
Have you read anything by Diane Chamberlain yet? If not, feel free to start with The Silent Sister. Although Ms. Chamberlain has written many books, which are all outstanding, this is her newest publication, so take the opportunity to read this one so you can talk about it with your friends. Jodi Picoult is probably the author that I was most reminded of while reading The Silent Sister. With just the right amount of suspense and romance, I could hardly put this book down. Diane Chamberlain has a way of laying down a plot that snags the reader right away, and then doling out little tidbits of vital information about the characters and what has happened in the past at just the right moments to keep one reading until the wee hours of the morning.
Like Jodi Picoult's novels, this book is written in alternating chapters with different narrators. Jade and Riley, two very different women, are leading completely opposite lives and seem to have nothing in common. However, as the story unfolded, there were connections here and there until I was convinced that there was something right in front of me that I should have seen all along. That's how this book works--the bare facts are laid, and when you get to the end, you feel as though all of the answers to your questions were there all along.
What I liked most about this book was the secret lives each of these women have, whether they know it or not. They might seem to be your typical ladies on the outside, but then at the end you see a different side of them--a side that is perhaps more interesting and mysterious than you thought possible. I hope my review helps convince you to read this book, because this is a story you don't want to miss!
Content Analysis:
Profanity/Language: 7 religious exclamations; 8 mild obscenities; 3 derogatory names; 8 scatological words; 1 anatomical term; 8 F-Word derivatives.
Violence/Gore: A character is mentioned to have committed suicide; an accidental murder is mentioned several times; a child's father is said to have died; blood and gore are mentioned in brief detail; an accident is mentioned and a character is badly injured, some blood is mentioned.
Sex/Nudity: Adults kiss; a woman is mentioned to have trouble conceiving; a minor is pregnant out of wedlock; a man rapes a minor, this is briefly described with minimal detail, the minor becomes pregnant as a result; a man is mentioned to have been sexually abusive to a minor female; porn is mentioned to have been found on a computer.
Mature Subject Matter:
Sex/gender identity issues, crime/illegal activity, death, depression.
Alcohol / Drug Use:
Adults drink; adults smoke; smoking weed is referred to.
Reviewed By Lydia