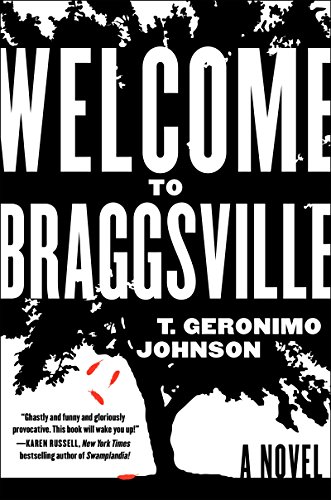 Publisher's Note:
From the PEN/Faulkner finalist and critically acclaimed author of Hold It 'Til It Hurts comes a dark and socially provocative Southern-fried comedy about four UC Berkeley students who stage a dramatic protest during a Civil War reenactment—a fierce, funny, tragic work from a bold new writer.
Welcome to Braggsville. The City that Love Built in the Heart of Georgia. Population 712
Born and raised in the heart of old Dixie, D'aron Davenport finds himself in unfamiliar territory his freshman year at UC Berkeley. Two thousand miles and a world away from his childhood, he is a small-town fish floundering in the depths of a large, hyper-liberal pond. Caught between the prosaic values of his rural hometown and the intellectualized multicultural cosmopolitanism of Berzerkeley, the nineteen-year-old white kid is uncertain about his place until one disastrous party brings him three idiosyncratic best friends: Louis, a "kung-fu comedian" from California; Candice, an earnest do-gooder claiming Native roots from Iowa; and Charlie, an introspective inner-city black teen from Chicago. They dub themselves the "4 Little Indians."
But everything changes in the group's alternative history class, when D'aron lets slip that his hometown hosts an annual Civil War reenactment, recently rebranded "Patriot Days." His announcement is met with righteous indignation, and inspires Candice to suggest a "performative intervention" to protest the reenactment. Armed with youthful self-importance, makeshift slave costumes, righteous zeal, and their own misguided ideas about the South, the 4 Little Indians descend on Braggsville. Their journey through backwoods churches, backroom politics, Waffle Houses, and drunken family barbecues is uproarious to start, but will have devastating consequences.
With the keen wit of Billy Lynn's Long Halftime Walk and the deft argot of The Brief Wondrous Life of Oscar Wao, T. Geronimo Johnson has written an astonishing, razor-sharp satire. Using a panoply of styles and tones, from tragicomic to Southern Gothic, he skewers issues of class, race, intellectual and political chauvinism, Obamaism, social media, and much more.
A literary coming-of-age novel for a new generation, written with tremendous social insight and a unique, generous heart, Welcome to Braggsville reminds us of the promise and perils of youthful exuberance, while painting an indelible portrait of contemporary America.
This book was sent to Compass Book Ratings for review by William Morrow
Welcome to Braggsville
by T. Geronimo Johnson
Overall Review:
Welcome to Braggsville was an odd book. It reminded me of To Kill A Mockingbird, except with a modern day plot and characters. I thought it was quite well-written--almost too well-written. It was very literary and not necessarily a "lazy day" read; I felt like I had to be paying close attention throughout the entire story so as not to be left behind. Even still, I don't feel as if I really "got" the whole idea of this book.
I didn't really feel I could relate well to any of the characters in this book. The main character, D'aron Davenport, comes from a small town in Georgia. This town goes by the name of Braggsville. This is a town that prides itself on its, well, small town-ed-ness. But D'aron has somehow made it out of the trap that Braggsville is and is now living a very different life attending college at Berkeley. He hasn't had much luck fitting in so far, but somehow he is bestowed three young people who think a lot like he does, and they immediately become best-ies. (This usually doesn't happen in real life, but this is a fiction book, so miracles can occur, right?) All of a sudden life is looking a bit brighter for D'aron. Until, that is, his friends talk him into a crazy adventure that he starts out thinking might be fun, but then he quickly changes his mind when things don't go as planned.
This book is different, but I felt slightly more educated after reading it. I'm not really up to speed on race and politics nowadays, but this book takes a look at both of those things and how they can--and do--affect people, even teens. I guess this story just felt like it was going nowhere fast, but the story is a strong one, so go ahead and read it, and form your own opinion. Maybe you will find that D'aron and his troubles aren't far away from your own.
Review of Advance Reader's Copy
Content Analysis:
Profanity/Language: 3 religious exclamations; 3 mild obscenities; 6 derogatory names; 11 scatological words; 5 anatomical terms; 1 offensive hand gesture; 10 F-Word derivatives
Violence/Gore: A girl is described to have been physically abused, some blood is mentioned; a boy is hanged by accident and dies, his bloody body is described briefly; racial slurs and threats are made.
Sex/Nudity: Minors are mentioned to be sexually active, with no explicit detail; porn is mentioned with no detail; sex is implied several times; sex is referred to among teens several times; a woman is mentioned to be dressed provocatively; nudity with some sexual innuendo is mentioned with some brief description of nude bodies.
Mature Subject Matter:
Ethics, murder, physical abuse, racial issues, politics.
Alcohol / Drug Use:
Drug use is mentioned; smoking marijuana is mentioned; minors drink.
Reviewed By Lydia