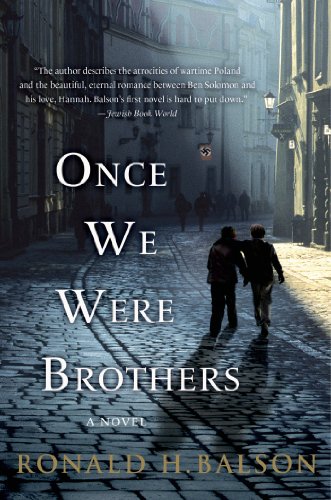 Publisher's Note:
The gripping tale about two boys, once as close as brothers, who find themselves on opposite sides of the Holocaust.

Elliot Rosenzweig, a respected civic leader and wealthy philanthropist, is attending a fundraiser when he is suddenly accosted and accused of being a former Nazi SS officer named Otto Piatek, the Butcher of Zamosc. Although the charges are denounced as preposterous, his accuser is convinced he is right and engages attorney Catherine Lockhart to bring Rosenzweig to justice. Solomon persuades attorney Catherine Lockhart to take his case, revealing that the true Piatek was abandoned as a child and raised by Solomon's own family only to betray them during the Nazi occupation. But has Solomon accused the right man?

Once We Were Brothers is Ronald H. Balson's compelling tale of two boys and a family who struggle to survive in war-torn Poland, and a young love that struggles to endure the unspeakable cruelty of the Holocaust. Two lives, two worlds, and sixty years converge in an explosive race to redemption that makes for a moving and powerful tale of love, survival, and ultimately the triumph of the human spirit.
Once We Were Brothers
by Ronald H. Balson
Overall Review:
I had never heard of this book until our library bought a copy. A patron requested the purchase, and once I read the synopsis I was intrigued and added it to my to-read list. When the patron who requested it returned this book, she told me it was so good so I took the book home and read it over the weekend; even though it is a little thick, and deals with some heavy stuff, this book was a surprisingly fast read.
In the beginning of this book, we are introduced to several characters all at once. Although they don't seem to be connected at first, the reader soon discovers they are more closely related than seems plausible. So begins a story of war, love, hate, family, and a fight for justice that everyone thought was buried long, long ago. The story jumps back and forth between te early 2000's and the era of World War II, and is narrated by different characters. Usually this kind of writing is hard for me to follow, but this time I was fully engrossed in the story and had no difficulties. I think the legal aspects of Once We Were Brothers would have a great appeal to Grisham fans.
Content Analysis:
Profanity/Language: 10 mild obscenities; 3 derogatory names; 4 scatological words; 2 anatomical terms; 6 F-Word derivatives
Violence/Gore: General war violence occurs several times; houses are mentioned to have been destroyed in the war; a girl is mentioned to have jumped from a window in a tall building and died; people are verbally threatened by government officials; assault is mentioned; animals are mentioned to have attacked two men and killed them; a character is killed in one briefly descriptive scene involving a stabbing and blood; hanged bodies are mentioned to be seen; people are mentioned to have perished in death camps.
Sex/Nudity: Adults kiss multiple times; one brief slightly descriptive scene of sexual abuse against women.
Mature Subject Matter:
Death, general violence, personal crises, social conflicts, sexual abuse.
Alcohol / Drug Use:
Adults drink; adults smoke.
Reviewed By Lydia