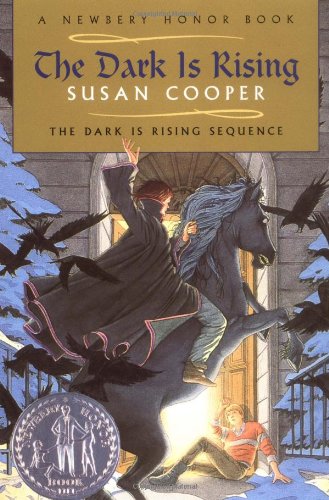 Publisher's Note:
On the Midwinter Day that is his eleventh birthday, Will Stanton discovers a special gift -- that he is the last of the Old Ones, immortals dedicated to keeping the world from domination by the forces of evil, the Dark. At once, he is plunged into a quest for the six magical Signs that will one day aid the Old Ones in the final battle between the Dark and the Light. And for the twelve days of Christmas, while the Dark is rising, life for Will is full of wonder, terror, and delight.
The Dark is Rising
by Susan Cooper
Overall Review:
The Dark is Rising is the second book in a five book series titled The Dark is Rising Sequence. Published in the early 1970's, it is also a Newbery Honor book. Although it is the second in the squence, this is a book that can stand alone without the other books in the series and it is not necessary to have read the first book, Over Sea, Under Stone, to follow the plot or enjoy the story.
Writing styles changes over time and this fantasy book has a different cadence and more descriptive style than most current offerings. The good and evil in this series feels older and epic in breadth; more is left unexplained and open. Although set in a modern England, there are ties to Celtic and Arthurian legends.
This is an excellent book in a classic fantasy series. Highly recommend for hard-core fantasy lovers, Lord of the Ring lovers, and for those readers even younger than twelve who are up to a more challenging, descriptive, and cerebral fantasy than the current, action-driven fashion in middle grade fantasy.
Content Analysis:
Profanity/Language: 1 mild obscenity; 1 anatomical term.
Violence/Gore: Several implied and verbal threats of harm; characters held against will by magical means; destruction of property; character attacked by animals, brief and non-detailed; discussion/explanation of a magical spell that could have resulted in human death; character is burned; intense scene of magical/good-evil peril; character is kidnapped; report that a character fell and broke a limb; character grabs/attacks another, hurting wrist; attempt to throw character to probably death; character dropped from a great height resulting in severe injury and ultimately death; characters are chased.
Sex/Nudity: None
Mature Subject Matter:
Death.
Alcohol / Drug Use:
Characters of varying ages drink Christmas punch and there is the implication that it contains alcohol.
Reviewed By Cindy