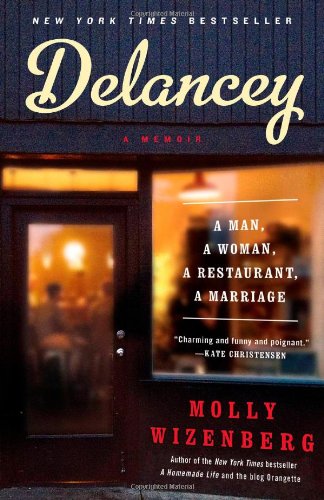 Publisher's Note:
In this funny, frank, tender memoir and New York Times bestseller, the author of A Homemade Life and the blog Orangette recounts how opening a restaurant sparked the first crisis of her young marriage.

When Molly Wizenberg married Brandon Pettit, he was a trained composer with a handful of offbeat interests: espresso machines, wooden boats, violin-building, and ice cream–making. So when Brandon decided to open a pizza restaurant, Molly was supportive—not because she wanted him to do it, but because the idea was so far-fetched that she didn't think he would. Before she knew it, he'd signed a lease on a space. The restaurant, Delancey, was going to be a reality, and all of Molly's assumptions about her marriage were about to change.

Together they built Delancey: gutting and renovating the space on a cobbled-together budget, developing a menu, hiring staff, and passing inspections. Delancey became a success, and Molly tried to convince herself that she was happy in their new life until—in the heat and pressure of the restaurant kitchen—she realized that she hadn't been honest with herself or Brandon.

With evocative photos by Molly and twenty new recipes for the kind of simple, delicious food that chefs eat at home, Delancey is a moving and honest account of two young people learning to give in and let go in order to grow together.
Delancey: A Man, a Woman, a Restaurant, a Marriage
by Molly Wizenberg
Overall Review:
Upon reading the synopsis of this book, I just knew I would adore it. Every now and then I will read a non-fiction book that is so outstanding that I can't put it down. This was one of them.
Delancey is written by Molly Wizenberg, a very brave woman indeed. Why, you ask? Well, for one she married a man because of a shared love of pizza. For another, this same man, the love of her life, is a go-getter. He has big ideas and plans, but sometimes they don't turn out exactly as hoped, if they turn out at all. At the beginning of the book, Molly writes about how Brandon, her husband, had big plans to build violins, a boat, an ice cream shop--all things he was and is passionate about, only to lose sight of the end goal and toss the whole project to the wayside. Molly is rightfully frustrated by this kind of thing, but she is a good sport and a loving wife, and supports Brandon in his endeavors.
So when Brandon got the idea to start a restaurant, and not any restaurant mind you, but a pizza joint, Molly is behind him 100%. This book tells of the struggles the couple face as new business owners and entrepreneurs, and also of their joys and triumphs. Molly writes with honesty and grit. She describes in detail all of the blood, sweat, and tears that went into the restaurant she and her husband built almost from scratch, with the help of some very dedicated friends. This is an inspiring, hopeful book that will stay with me for a long time.
Content Analysis:
Profanity/Language: 1 religious exclamation; 4 mild obscenities; 2 scatological words; 2 anatomical terms; 4 F-Word derivatives.
Violence/Gore: A person cuts thumb and gashes it quite badly.
Sex/Nudity: Adults kiss; sex is referred to once; a woman worries that her husband might be cheating on her.
Mature Subject Matter:
Death of a parent.
Alcohol / Drug Use:
Adults drink; adults are mentioned to smoke pot; snorting coke is mentioned.
Reviewed By Lydia