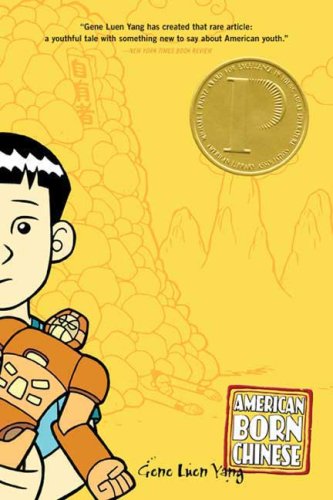 Publisher's Note:
Jin Wang starts at a new school where he's the only Chinese-American student. When a boy from Taiwan joins his class, Jin doesn't want to be associated with an FOB like him. Jin just wants to be an all-American boy, because he's in love with an all-American girl. Danny is an all-American boy: great at basketball, popular with the girls. But his obnoxious Chinese cousin Chin-Kee's annual visit is such a disaster that it ruins Danny's reputation at school, leaving him with no choice but to transfer somewhere he can start all over again. The Monkey King has lived for thousands of years and mastered the arts of kung fu and the heavenly disciplines. He's ready to join the ranks of the immortal gods in heaven. But there's no place in heaven for a monkey. Each of these characters cannot help himself alone, but how can they possibly help each other? They're going to have to find a way—if they want fix the disasters their lives have become.
This book was sent to Compass Book Ratings for review by Square Fish (A Macmillan Publishing Imprint)
American Born Chinese
by Gene Luen Yang
Overall Review:
"It's easy to become anything you wish...so long as you're willing to forfeit your soul." Do you turn away and despise who you know you are, or do you embrace yourself and what you stand for?

American Born Chinese by Gene Luen Yang explores family, culture, and society through the experiences of three distinct characters: the monkey King, a Chinese-American boy Jin, and an All-American teenager, Danny. Yang offers us an original tale that triumphantly explores the struggle of succumbing to the pressure of being accepted, and forgetting who we really are. As these three seemingly unrelated stories suddenly converge, we learn that although we face trials, we must recognize that we have all been intentionally created for a purpose, and that this knowledge will lead us to find our own personal destiny and give us the power to overcome whatever stands in our way.

American Born Chinese is highly recommended for parents, teenagers, and book clubs, and offers a fantastic jumping-off point for discussion into the value of a person, and how being who you are meant to be can be freeing (sometimes literally, as with the monkey king!) Don't discount the graphic art of the book...in fact, the symbolism offered by the pictures is what drives home the meaning behind the story. In the end, the merging stories will make you question everything you just read, will push you to put the pieces together and figure it out, and even lead you to take a long, hard look in the mirror and consider yourself carefully. Told in a clear, fresh voice, American Born Chinese shines as an encouraging, witty, and memorable story of being true to yourself, no matter what others expect you to be.
Content Analysis:
The profanity in this books consists of a dozen instances of mild coarse language, including a few racial names, a few very mild profanities, and a few instances of general name-calling.

Violence was all very mild or mild and brief. The very mild instances included a bully threatening a kid, and a girl who punches a boy for stealing a quick kiss, and a boy who punches another boy for calling him a name, a character is slapped, and two boys get in a brief fist fight. Mild violence included 2 instances of characters being stabbed through with a spear, a picture of a monkey with his head cut off, multiple pictures of a character in fights with others, and an instance/picture where a character relieves himself on a pillar.

Sexual content included three mild instances and one moderate instance. Mild instances included a joke about the female chest, an instance in which we know that a character has urinated in another kid's soda, and a brief thought about a girl taking off her clothes. The moderate instance was a non-descriptive innuendo where a boy invites a girl to participate in a sexual act.
Mature Subject Matter:
Mature Themes include a scene where a boy is smoking, judging others for being different, self-worth, discovering who you are, and accepting yourself even when others do not. There is also a very uplifting, underlying theme surrounding our divine worth as individuals.
Alcohol / Drug Use:
***
Reviewed By Melissa