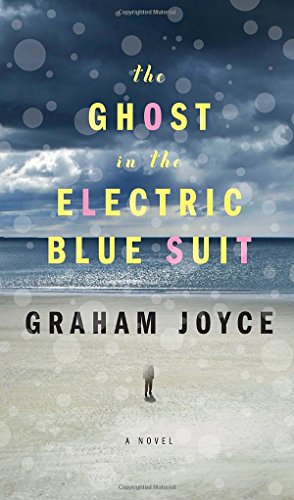 Publisher's Note:
Critically acclaimed author Graham Joyce returns with a sexy, suspenseful,and slightly supernatural novel set 1976 England during the hottest summer in living memory, in a seaside resort where the past still haunts the present.

David, a college student, takes a summer job at a run-down family resort in a dying English resort town. This is against the wishes of his family . . . because it was at this resort where David's biological father disappeared fifteen years earlier. But something undeniable has called David there.

A deeper otherworldliness lies beneath the surface of what we see. The characters have a suspicious edge to them . . . David is haunted by eerie visions of a mysterious man carrying a rope, walking hand-in-hand with a small child . . . and the resort is under siege by a plague of ladybugs. Something different is happening in this town.

When David gets embroiled in a fiercely torrid love triangle, the stakes turn more and more menacing. And through it all, David feels as though he is getting closer to the secrets of his own past.

This is a darkly magic and sexy book that has a strong suspense line running through it. It's destined to continue to pull in a wider circle of readers for the exceptionally talented Graham Joyce.
The Ghost in the Electric Blue Suit
by Graham Joyce
Overall Review:
Sometimes I see a book and I know right when I see it that it just looks like a book I will enjoy. The Ghost in the Electric Blue Suit was different. I have never read anything by Graham Joyce, so I didn't have any preconceived notions about what his style would be or if I liked him already. (If his other books are like this one, I would definitely give them a try.) This was a good book to introduce me to the author so it might be a good introduction for other readers, too. Let me tell you why.
First, this book takes place at a resort, which is a fun setting. I almost felt like I got to go on a little vacation while I was reading this book as Graham Joyce knows how to describe a place in detail. Second, this book is a little bit of a thriller. There is a bit of mystique to the main character, a young man named David, who has an odd habit of attracting a swarm of ladybugs wherever he goes. If you need a third reason to read this book, then there is its parade of lively characters that work at the summer resort. Characters that are funny, and sad, and most of all, human. If you have been looking for an excuse to curl up in a cozy place and read, this book might be it!
Content Analysis:
Profanity/Language: 1 religious exclamation; 3 mild obscenities; 5 derogatory names; 2 scatological words; 27 F-Word derivatives
Violence/Gore: A character is mentioned to have died from a heart attack; a child is mentioned to have been abandoned by his father; abuse is mentioned in no detail.
Sex/Nudity: Adults kiss; an adult woman touches a man in a sexual way in one brief sex scene; nudity with sexual innuendo is mentioned briefly twice (a woman is mentioned to be unclothed except for her underwear, a boy notices a woman's nude legs and short skirt); adult guests staying at a resort are mentioned to "entertain" each other in their bedrooms; a woman is mentioned to have a past of prostitution; a man is mentioned to be having an affair; sex is implied several times.
Mature Subject Matter:
Personal crises, supernatural.
Alcohol / Drug Use:
Adults drink; adults smoke.
Reviewed By Lydia