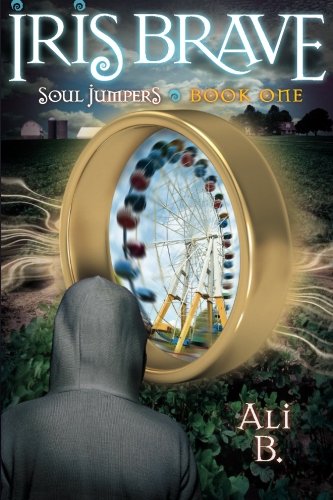 Publisher's Note:
Iris Brave isn't as courageous as her name suggests. That's about to change. Iris doesn't take risks. Heights make her dizzy and she prefers to swim in the shallow end… with nose plugs. On a summer visit to her grandpa's farm, a mysterious stranger shadows Iris, leaving her cryptic messages. When this outsider turns out be a phantom from her family's past, Iris sheds her timid ways to uncover the truth and protect the family she loves. Along the way Iris discovers family secrets and enigmatic figures that lead her to question everything she's ever thought was real.
This book was sent to Compass Book Ratings for review by Cadence Group
Iris Brave
by Ali B.
Overall Review:
Do people really get a second chance? What happens if they don't finish their work here on earth before they die? The Soul Jumper Series, by Ali B. takes these questions and turns them into a paranormal series that starts with Iris Brave. Iris is searching for answers to her father's death and instead of answers she is drawn into the world of soul jumpers. She ends up with more questions, wondering what has happened to her dad.
The book, and series for that matter, has an interesting take on what happens to our souls and takes that premise in an engaging direction. Ali B. shows promise as a new author writing a compelling and at times intriguing story. However, the author definitely has room to grow. Although the story line was interesting, at times it slowed and was seemingly dragged out by Iris' dialogue and thoughts just to get the reader from one event to the other. As a reader, it was also hard to relate to the other characters in the story because everything was seen through Iris's eyes, which only seemed to skim the surface. One was left feeling rather like one only heard half the story or didn't get all of the details. The editing needed some more attention, as there were some typos, missing punctuation, and at one point the character Jess was called Tess.
Problematic was the eleven year old protagonist, Iris, who was portrayed as timid, introverted, and somewhat of a scaredy cat. However, Iris then runs off to follow and meet a stranger; she runs away, as the stranger advises her to do, to a big city where she meets up with more strangers who then take her in and hide her. This transition in personality was not sufficiently developed to be believable.
The book ends abruptly, so if you need closure or don't like to be left in suspense, you'll want the second book handy.
Content Analysis:
Profanity/Language: 1 religious exclamation; 3 mild obscenities.
Violence/Gore: 2 accounts of thugs coming after a character; 1 account of deep wound to hand; a few retellings of how a character's dad and another person die in an auto accident; one character punches another character.
Sex/Nudity: Character refers to her chest as "boobies"
Mature Subject Matter:
Death of parent, running away from home, the paranormal/fantasy concept of soul jumping (which involves the soul of someone who died taking over the body of someone who might die).
Alcohol / Drug Use:
Reference to someone as having had a high blood alcohol level and drunk on a few occasions.
Reviewed By Sally