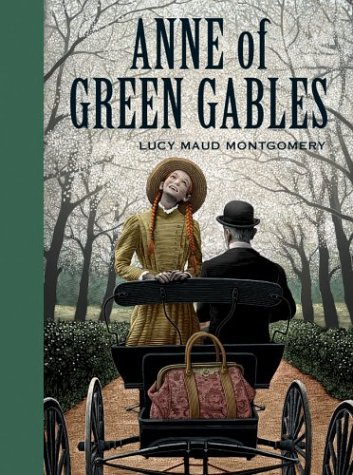 Publisher's Note:
"Matthew had taken the scrawny little hand awkwardly in his; then and there he decided what to do. He could not tell this child with the glowing eyes that there had been a mistake. . . ." When eleven-year-old Anne Shirley arrives at Green Gables with nothing but a carpetbag and an overactive imagination, she knows that she has found her home. But first she must convince the Cuthberts to let her stay, even though she isn't the boy they'd hoped for. The loquacious Anne quickly finds her way into their hearts, as she has with generations of readers, and her charming, ingenious adventures in Avonlea, filled with colorful characters and tender escapades, linger forever in our memories.
Anne of Green Gables
by L.M. Montgomery
Overall Review:
Like many girls, I "grew up" with L. M. Montgomery's books about Anne Shirley, and they remain some of my very favorites! Anne of Green Gables, the first in the series, is the story of intrepid orphan Anne Shirley's somewhat accidental adoption by elderly, never-married Marilla Cuthbert, and her shy bachelor brother, Matthew. Although Marilla—a straight-backed spinster with very little imagination—is initially wary of red-haired, talkative Anne, eventually she, like everyone else in the small town of Avonlea, is charmed by Anne's spirit and spunk. Anne navigates her way through early adolescence along with a cast of endearing characters, like her "bosom friend" Diana and swoon-worthy admirer and archenemy, Gilbert Blythe. Readers will find themselves falling in love with Anne and consider her a "kindred spirit", just like everyone else she encounters! A great book for any age.
Content Analysis:
There are a few very mild religious exclamations. There is very little violence, though there are a few scenes involving heated arguments, and in one memorable scene Anne smashes her slate over a fellow classmate's head.
Mature Subject Matter:
During the course of the novel, a character dies, which introduces some mild mature themes. The death is handled very gently.
Alcohol / Drug Use:
Reviewed By CindyB