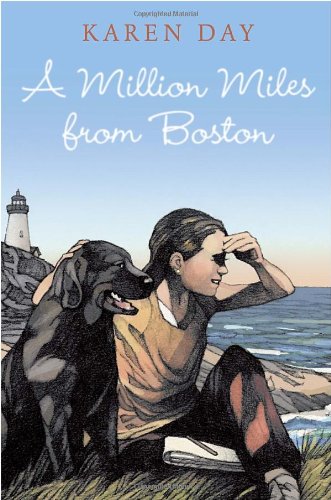 Publisher's Note:
School's out! That means Lucy is off to her favorite place: Pierson Point, Maine, where she spends summers with her family. And as she tries to forget her worries about starting middle school and about Dad's new girlfriend, Lucy can't get there soon enough. Pierson Point is where she feels most like herself, and where memories of her mother, who died when Lucy was six, are strong and sacred.

But this summer, nothing is the same. Ian, a boy from home in Boston, comes to Pierson Point with his family. Ian is loud, popular, and mean. He and Lucy can't stand each other. To top it off, Dad wants his girlfriend to become a bigger part of Lucy's life.
Karen Day's engaging novel shows that people aren't always what they seem, and that friendship can be found in the most unusual places.
This book was sent to Compass Book Ratings for review by Wendy Lamb Books (A Random House Children's Imprint)
A Million Miles From Boston
by Karen Day
Overall Review:
A Million Miles from Boston was wonderfully written by an author who really understands the 'young' young adult audience. It is full of blossoming social awkwardness, and yearning to be seen as mature and competent. Karen Day realistically depicts Lucy's emotional development as we see her go from being confused about her mother's death to accepting it, and also as Lucy learned to accept and appreciate her father's new girlfriend. The story was realistic and meaningful, and is absolutely perfect for an 11 to 14 year-old. A fantastic book for any young (or old!) reader.
Content Analysis:
Karen Day does a great job in keeping this book clean while still lightly addressing some difficult subjects. There is no violence, profanity, or sexual content.
Mature Subject Matter:
However, there are several mature themes such as dealing with the death of her mother, watching her father begin a relationship with a new woman, a family with alot of conflict, and some teen vandalism. Although this book does address these touchy subjects, it never goes into a lot of description about any of these events. Karen Day brought up the subjects only enough to get us thinking about them. This book could be read and enjoyed by any age.
Alcohol / Drug Use:
***
Reviewed By SqueakyCleanReads