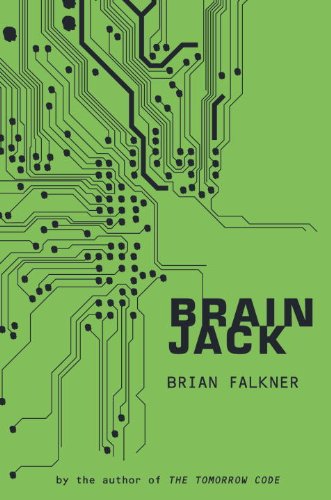 Publisher's Note:
In a dystopian near-future, neuro-headsets have replaced computer keyboards. Just slip on a headset, and it's the Internet at the speed of thought. For teen hacker Sam Wilson, a headset is a must. But as he masters the new technology, he has a terrifying realization. If anything on his computer is vulnerable to an attack, what happens when his mind is linked to the system? Could consciousness itself be hacked? Brian Falkner, author of The Tomorrow Code and The Project, delivers an action-packed and thought-provoking sci-fi thriller in which logging on to a computer could mean the difference between life and death.
This book was sent to Compass Book Ratings for review by Random House Children's Books
Brain Jack
by Brian Falkner
Overall Review:
Was it ironic, spooky, or prophetic that my laptop died the day I started reading Brainjack by Brian Falkner? Opening with a chilling, foreboding, and awesome prologue, Brainjack has you looking over your cyber-shoulder by page three. In the mood for action and adventure? A thriller? Dystopian? Utopian? No worries, this book has it all. The first half of the book was fresh and relevant with its rapid-fire-in-your-face-intense hacker-infiltrator versus hacker-defender military style. At about the mid-point the narrative took a turn down a more well-worn and familiar path which was disappointing. Although the story lost its freshness, it continued to flow smoothly through the action scenes with plentiful witty banter by its characters. Typical of most science fiction, the ending was a bit nebulous and left the reader struggling to understand the author's resolution. Atypical of most science fiction, the ending was perhaps a bit too glowing. The reader is left wondering if it is Big Brother or Santa Claus watching over him. However, flaws aside, the first half alone is reason enough to read Falkner's book. If you like computers and action, log on to Brainjack.
Content Analysis:
Much of the violence is the report of events that have occurred. Also, much of the action in the book uses military terms to describe events that are happening as people are hacking into computers and systems. Very interesting, but not really violence since it is happening in the cyberworld. Violence that occurred in the characters' real world included the following: a character points a gun and grabs another character' shirt; characters are watching a hockey game where the hockey players get into a fight; during a government raid two figures are found unconscious; a character seems in pain and then dies; another character appears in pain with seizure-like symptoms and becomes unconscious; a character is punched; a character is kicked; battling jets and an explosion are seen from a distance; a character is shot at; a character throws bricks at other characters; characters struggle; there are a couple of car chases with shooting exchanged and a car crashes; several military encounters occur between jets, tanks, troops, etc.; a man is shot; gunfire is exchanged between troops; a character suffers an injury and becomes unconscious with blood on his forehead.
Twenty-two mild religious profanities were noted. Although not technically profanity, a coarse term was used a few times and there was some "guy" banter about body parts and body digestive functions.
Sexual content was very mild and included a character noticing another character's attractiveness and the characters briefly embrace and kiss once. Other content noted was a character skinny-dipping.
Mature Subject Matter:
Mature themes included guilt, addiction, venerability, manipulation, power, the use and dangers of technology, and mob mentality/group think.
Alcohol / Drug Use:
***
Reviewed By Cindy