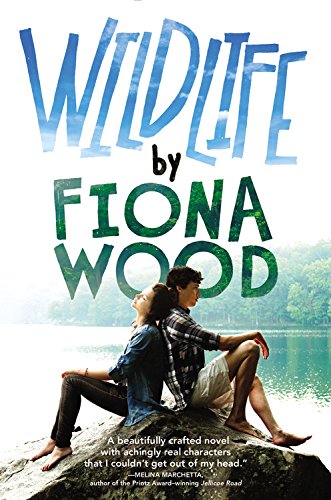 Publisher's Note:
During a semester in the wilderness, sixteen-year-old Sib expects the tough outdoor education program and the horrors of dorm life, but friendship drama and an unexpected romance with popular Ben Capaldi? That will take some navigating.

New girl Lou has zero interest in fitting in, or joining in. Still reeling from a loss that occurred almost a year ago, she just wants to be left alone. But as she witnesses a betrayal unfolding around Sib and her best friend Holly, Lou can't help but be drawn back into the land of the living.

Fans of Melina Marchetta, Rainbow Rowell, and E. Lockhart will adore this endearing and poignant story of first love, true friendship, and going a little bit wild.
Wildlife
by Fiona Wood
Overall Review:
This book was not your typical young adult novel. Although the storyline reminded me a little bit of The Fault in Our Stars, the novel had this foreign tone, and I wasn't sure what I was missing until the end. When I reached the last page of this book, I went online and looked it up just to see what others were saying about it, and there lay the answer to my wondering. Apparently this is the companion novel to a book called Six Impossible Things. Unfortunately, because I have not read this book, I feel like I missed out on a few things in this story. Furthermore, Fiona Wood is an Australian author, which probably also lent to the uniqueness of the novel's voice.
This book's tale was good, but I will admit, when I got to the end I was a little relieved; perhaps because of the high sexual content, which put me off just a little bit, especially since this is a teen book. I have always adored reading about summer camps and boarding schools, so I did like that component of the story. The parts about living off the land and finding your own true self were good, too.
My favorite part of this story was when the main characters finally started to forgive themselves of things that had happened in the past that they had no control over. This book was encouraging in a roundabout way, and I would recommend it to older teens that are looking for a fresh read after they have exhausted their John Green collection.
Review of Advance Reader Copy
Content Analysis:
Profanity/Language: 2 religious exclamations; 10 mild obscenities; 2 derogatory names; 3 scatological words; 4 anatomical terms; 5 F-Word derivatives.
Violence/Gore: An injured animal is described to be bleeding and in misery; a brief description of a character killing an injured animal is mentioned; death of a loved one is alluded to, with no description of how the death occurred.
Sex/Nudity: Minors are sexually active, this is mentioned multiple times; minors are mentioned to have sex, one brief sex scene is described with some nudity and innuendo; minors kiss; mature discussions about sex are narrated multiple times, with some explicit detail; sex education classes are described in some detail.
Mature Subject Matter:
Death, personal crises, sexual exploration.
Alcohol / Drug Use:
Minors drink; minors smoke.
Reviewed By Lydia