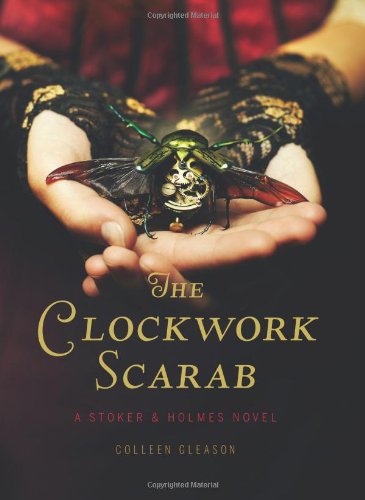 Publisher's Note:
Evaline Stoker and Mina Holmes never meant to get into the family business.

But when you're the sister of Bram and the niece of Sherlock, vampire hunting and mystery solving are in your blood. And when two society girls go missing, there's no one more qualified to investigate.

Now fierce Evaline and logical Mina must resolve their rivalry, navigate the advances of not just one but three mysterious gentlemen, and solve a murder with only one clue: the strange Egyptian scarab. The stakes are high.

If Stoker and Holmes don't unravel why the belles of London society are in such danger, they'll become the next victims.
This book was sent to Compass Book Ratings for review by Chronicle Books
The Clockwork Scarab
by Colleen Gleason
Overall Review:
New York Times Bestselling author of the Gardella Vampire Chronicles, Colleen Gleason, debuts her first young adult novel, The Clockwork Scarab. The first in a series, the book delivers a twist on some familiar fictional and non-fictional characters and places. Alvermina Holmes (niece to Sherlock Holmes) and Evaline Stoker (sister of Bram Stoker) partner up to solve the mystery of disappearing high society young women and in the process encounter and create their own conundrums. With the back drop of steam-punk Victorian London, the novel inserts some alluring aspects to keep the reader engaged and on the edge of their seat (so to speak).
"Vampires. Demons. Super-natural instruments supposedly belonging to an Egyptian goddess...and now time travel?" --Having so many different elements incorporated into one novel, one would think that the result would be a haphazard disaster. Not so in Ms. Gleason's novel! She seems to fuse all material into a fantastic plucky mixture that is anything but elementary. Readers of all genres will find something to admire in this commixture of literary work, but young girls will be especially thrilled to get a double dose of spunky heroism--one can be admired for her wit, the other for her strength, and both for their courage.
The one complaint might be that the novel seems to end at the height of vivacity, but don't let your hopes be dashed, the second novel in the Stocker & Holmes series, The Spiritglass Charade, is set for publication in October 2014. A historical fiction mash-up of Veronica Mars and Buffy the Vampire Slayer, The Clockwork Scarab ensures a good time. If you enjoyed this novel and are having a hard time waiting for the follow-up, then you might enjoy Lynne Ewing's Sisters of Isis series, or Rick Riordan's Kane Chronicles.
Content Analysis:
Profanity/Language: 2 religious exclamations; 8 mild obscenities.
Violence/Gore: Second hand report of suspicious death; character encounters a victim of murder; character examines murder victim, wounds and blood mentioned; character recalls seeing a super-natural creature murder, blood and gore acknowledged; extended fight scene (about 2 pages); character engages in a gunfight; implication that a kidnap victim was a victim of violence, description of cuts and bruises; character is informed of another character's passing, unknown if it is suicide of murder; characters knocks the wind out of another character; extended scene (about 10 pages) character is injured by a blade, blood mentioned; character is held hostage and murdered by electrocution; characters engage in gunfire, fire engulfs a building, no loss of life; brief fight scene; second hand report of death; character receives a death threat; mention of drowning victim; blood, murder, and suicide are mentioned throughout the book.
Sex/Nudity: Mention of prostitution; characters kisses another character's hand; characters engage in a friendly embrace; implication that a kidnap victim may have been sexually assaulted, not a lot of details are given, reader must come to their own conclusion; characters kiss; a few scenes where characters flirt with one another sarcastically/joking about touching one another, (these scenes are not explicit and are more accurate for the time period (1800's) in which the book takes place).
Mature Subject Matter:
Abandonment, murder, kidnapping, occult activity.
Alcohol / Drug Use:
A few mentions of the drug opium being used and how it smells; scene of characters drinking ale (alcohol); a few mentions of drinking and smoking; character is drugged to induce sleep.
Reviewed By MaryLou