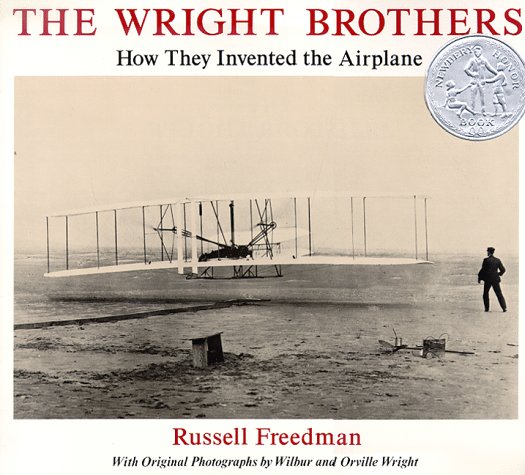 Publisher's Note:
The story of the first powered, sustained, and controlled airplane flight, and the men behind it.
The Wright Brothers: How They Invented the Airplane
by Russell Freedman
Overall Review:
This biography of the Wright brothers is great for anyone who loves history or airplanes. It's also great for reluctant readers because of the wonderful original photographs by Orville and Wilbur Wright. Freedman also includes interesting facts about the brothers like why it was Orville who flew that day rather than Wilbur.
For reluctant readers, you can encourage reading by looking at the pictures together, asking questions that can be found in the captions, looking up information in the index, or skimming the book yourself and pointing out some of Freedman's interesting facts. If your reluctant reader wants more from the book, read it aloud.
Although this book doesn't draw the reader in like an exciting novel can, Freedman does a good job of making the Wright brothers' story an intriguing one. He includes information like the toy that got the two Wright boys interested in flight, an explanation of why they chose Kitty Hawk, North Carolina as the place to test their flyer, and a description of the spontaneous gift Orville received from a prince—and the reason why it already had a "W" on it.
Reading Level: 10.5, range 9.2-11.5.
Also good for reluctant readers.
Of interest to boys and girls.
Awards: Newbery Honor Book, 1992
This review has been acquired and adapted from CleanTeenReads.com.
Content Analysis:
This review was acquired from CleanTeenReads.com on May 15, 2014 and was not completed using Compass Book Ratings' standardized checklist. Nevertheless, it contains useful content information which is included here. The overall number ratings have been approximated based on this information.
Inventor experimenting with hang glider fell fifty feet, broke spine and died, death mentioned again; monk in eleventh century attempted flight, broke both legs, was lame for life; experimental airplane falls twice into river, pilot survives both accidents; Wilbur mentions that he and Orville are pleased that "our own brains [weren't] dashed out" by their first experiments with a glider; glider "spun around and crashed into the sand," Wilbur cut on his face and got a black eye; Orville wrecks flying 1902 glider, not injured; assistant "badly bruised" when flyer rolls over a number of times; mention of "bruises and bumps" as they experiment with flyer; Wilbur scalded with boiling water from radiator hose; description of plane wreck that breaks skull of passenger who dies from injuries, Orville breaks leg, ribs, has "severe scalp wounds" and injures his back, photo of crash shows plane, caption mentions death and injuries; mention of pilot who had "12 major accidents, suffered 2 sprained ankles, a twisted back, and a slight concussion, spent several days in the hospital"; Wilbur contracts typhoid fever, "lapses into unconsciousness and dies"; Orville dies of heart attack years later.
Mature Subject Matter:
None
Alcohol / Drug Use:
Mention of "cigar-puffing" pilot.
Reviewed By CleanTeenReads