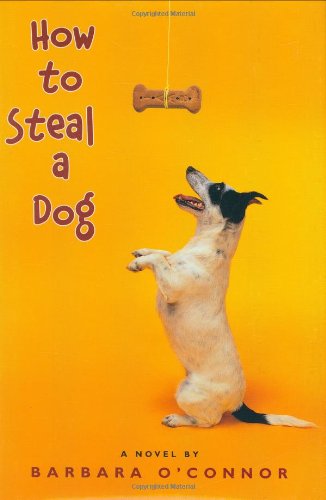 Publisher's Note:
Half of me was thinking, Georgina, don't do this. Stealing a dog is just plain wrong. The other half of me was thinking, Georgina, you're in a bad fix and you got to do whatever it takes to get yourself out of it.


Georgina Hayes is desperate. Ever since her father left and they were evicted from their apartment, her family has been living in their car. With her mama juggling two jobs and trying to make enough money to find a place to live, Georgina is stuck looking after her younger brother, Toby. And she has her heart set on improving their situation. When Georgina spots a missing-dog poster with a reward of five hundred dollars, the solution to all her problems suddenly seems within reach. All she has to do is "borrow" the right dog and its owners are sure to offer a reward. What happens next is the last thing she expected.

With unmistakable sympathy, Barbara O'Connor tells the story of a young girl struggling to see what's right when everything else seems wrong.
How to Steal a Dog is a 2008 Bank Street - Best Children's Book of the Year.
How to Steal a Dog
by Barbara O'Connor
Overall Review:
Outstanding job by author Barbara O'Connor in creating an intimate and personal look at the crisis of homelessness through the eyes of a young person! The voice of the protagonist, Georgina, is realistically voiced in tone, dialogue, and perspective. Told in first person, the world is consistently experienced and seen through the eyes of a young girl. The reader feels Georgina's frustration and desperateness to escape circumstances that are not of her own making. Although homelessness and poverty are difficult topic, this book is handled well and on point for the young audience it targets. It shows how easily families on the margin can slip into hard times; this gives readers a chance to sympathize with characters their own age. Along with way the main character learns some valuable lessons and ultimately the book ends on a hopeful note.
Content Analysis:
Profanity/Language: None
Violence/Gore: None
Sex/Nudity: None
Mature Subject Matter:
Theft, Parental (Father) abandonment of family, Homelessness, Poverty/Economic Distress
Alcohol / Drug Use:
None
Reviewed By Cindy