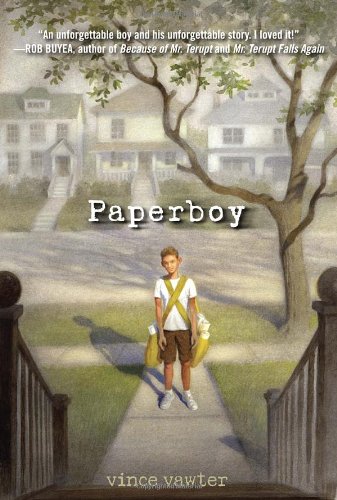 Publisher's Note:
A Newbery Honor Winner.

An ALA-ALSC Notable Children's Book.

A BookPage Best Children's Book.

For fans of To Kill a Mockingbird, The King's Speech, and The Help. A boy who stutters comes-of-age in the segregated South, during the summer that changes his life.

An 11-year-old boy living in Memphis in 1959 throws the meanest fastball in town, but talking is a whole different ball game. He can barely say a word without stuttering, not even his own name. So when he takes over his best friend's paper route for the month of July, he knows he'll be forced to communicate with the different customers, including a housewife who drinks too much and a retired merchant marine who seems to know just about everything.

The paper route poses challenges, but it's a run-in with the neighborhood junkman, a bully and thief, that stirs up real trouble--and puts the boy's life, as well as that of his family's devoted housekeeper, in danger.
Paperboy
by Vince Vawter
Overall Review:
In Paperboy, the protagonist is 11 year old Victor. Victor keeps to himself, but he has a lot of deep thoughts that he can't articulate because he has a severe stutter. Eleven going on twelve is a bit of a magical age, as this is when the transition from childhood to adult often begins and Paperboy documents this beginning for Victor. The pacing of the book is moderate and the number of characters relatively small, giving the story an intimate feel. The format is intentionally unconventional with the absence of commas, the inclusion of paragraph spacing, and the omitting of standardized, punctuated dialogue.
Paperboy by Vince Vawter is technically historical fiction, but the author's note says "Paperboy is my story, then, certainly more memoir than fiction." This novel's authenticity springs from the author's own experiences as a young boy and the struggle of communicating as a stutterer. Insightful and a voice for those who are often voiceless, Paperboy is a strong addition to middle grade historical fiction. Boys in particular should connect with this story, and of course, anyone who has ever thrown a newspaper.
Content Analysis:
Profanity/Language: 1 mild obscenity; 2 derogatory names; 2 anatomical terms.
Violence/Gore: Character falls and cuts lip; character tells how they used to stick tack in self to create pain as a distraction; a character has a bruised, swollen face, implying something violent happened to them; character tells how children purposely smashed Daddy Long Legs as part of a game; report that someone was killed/murdered; moderate length scene of confrontation involving strangling with intent to kill, throwing of objects, stabbing with a knife with mention of blood.
Sex/Nudity: None
Mature Subject Matter:
Racial Discrimination, Disabilities (speech disorder), Uncertain parentage (child does not know who father is).
Alcohol / Drug Use:
Adults drink socially and smoke. An adult character is often drunk. An adult takes a "dip of snuff".
Reviewed By Cindy