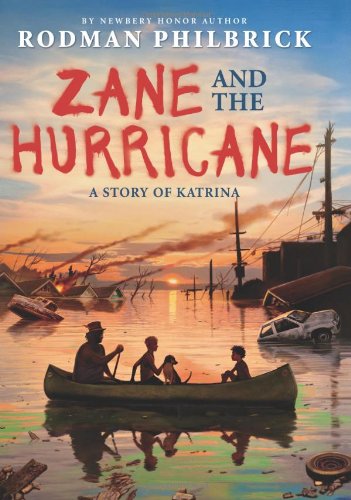 Publisher's Note:
Newbery Honor author Rodman Philbrick presents a gripping yet poignant novel about a 12-year-old boy and his dog who become trapped in New Orleans during the horrors of Hurricane Katrina.

Zane Dupree is a charismatic 12-year-old boy of mixed race visiting a relative in New Orleans when Hurricane Katrina hits. Unexpectedly separated from all family, Zane and his dog experience the terror of Katrina's wind, rain, and horrific flooding. Facing death, they are rescued from an attic air vent by a kind, elderly musician and a scrappy young girl--both African American. The chaos that ensues as storm water drowns the city, shelter and food vanish, and police contribute to a dangerous, frightening atmosphere, creates a page-turning tale that completely engrosses the reader. Based on the facts of the worst hurricane disaster in U.S. history, Philbrick includes the lawlessness and lack of government support during the disaster as well as the generosity and courage of those who risked their lives and safety to help others. Here is an unforgettable novel of heroism in the face of truly challenging circumstances.
This book was sent to Compass Book Ratings for review by The Blue Sky Press
Zane and The Hurricane: A Story of Katrina
by Rodman Philbrick
Overall Review:
In Zane and the Hurricane, Rodman Philbrick attempts to bring the infamous Hurricane Katrina to life for the younger generation. This he does in a manner that balances both the realities of the tragedy with the sensitivities of young readers. One might be disappointed that Philbrick doesn't make his main character a native of New Orleans, but by making Zane from New Hampshire and a somewhat neutral observer, Philbrick is able to establish an emotional boundary that protects the reader from the trauma and horror he needs to describe. The wider story arc of a boy discovering his roots and experiencing one of the worst disasters in American history will satisfy any reader; while the injustices, heartbreak and chaos of post-Katrina New Orleans will prick the heart of the more mature reader and lead one to awe at the power of Mother Nature, and to wonder at both the nobility and the contemptibility that encompass human nature.
Content Analysis:
Profanity/Language: None
Violence/Gore: Character trapped by floodwater; vague description of dead bodies floating in the water and the smell; encounter with a swarm of poisonous snakes; characters flee from a drug boss; guns aimed and threats to characters from security detail; police blockade, threats to shoot, an animal is shot and wounded badly; secondhand report of two characters killed.
Sex/Nudity: None
Mature Subject Matter:
Death, human suffering, guns.
Alcohol / Drug Use:
A character's mother is described as a drug addict in rehab; villain in story is a drug boss.
Reviewed By Kristen