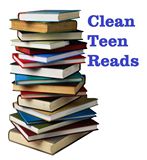 On May 15, 2014 Compass Book Ratings was pleased to acquire CleanTeenReads.com.  CleanTeenReads.com has been providing book reviews with content information since 2008 and at the time of the acquisition had reviewed almost 200 books for tweens and teens.
A Brief History of CleanTeenReads.com
CleanTeenReads.com was founded by Alison in 2008.  Being an avid reader, she volunteered for many years at the local Juvenile Justice Services facility, working weekly with the juvenile offenders to improve their reading. This work led her to expand her young adult reading to include all genres, reading levels, and types of books because like other teens, the young adults she worked with had diverse interests and a wide range of reading abilities.
As she looked for books to interest these teens, she was often frustrated that she couldn't tell from most reviews whether a book had material that might be objectionable, so she had to establish a policy that she don't bring a book to the teens unless she'd at least skimmed it.  Surely, she thought, parents and other adults—and teens and tweens too—must share this frustration, so the idea of a website for teen books was born.
Alison holds a master's degree in English from Brigham Young University where she taught writing for 23 years in the Honors Program, the English Department, and at the Law School. For her church, she has been serving as the president of the women's organization since 2012.
Moving On
Alison is moving on to new adventures and projects, specifically teaching English at a university in China, and was looking for a good home for her reviews and domain name.  Compass Book Ratings is pleased to provide that home and welcome CleanTeenRead.com users to our family.  We will be adapting many of the CleanTeenReads.com reviews to our rating system and they will be available in our searchable database.  Check back later this month to see those reviews.