As I write this, we are in a weird time where everyone is social distancing and staying home. I hope by the time I post this article the options for a family road trip in summer 2020 are opening up for all. (If not, then you can always randomly drive around in your car and enjoy these fabulous listens while pretending you are going someplace fascinating.) So, here are our hand-picked selections curated for story, reader, and the lower side of the content scale (5 or less in all three categories).
To see full content review, please click on book covers below.
Recommendations for Elementary Ages and Tween
---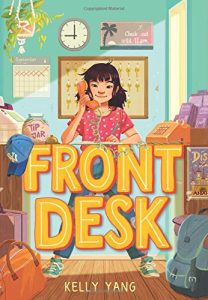 Front Desk by Kelly Yang
Genre: Fiction, Historical Fiction
6 Hours 30 minutes
The reader's voice is cute and fits the protagonist. Everyone in the car will be rooting for Mia and wondering when (or if) she and her family will ever catch a break. A sweet and hopeful ending (maybe a little unbelievable, but hey, summer listens should be hopeful and not death marches) that will leave you feeling good.
---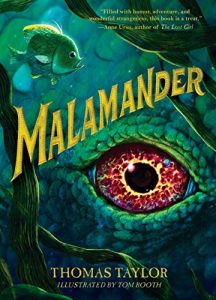 Malamander by Thomas Taylor
Genre: Fantasy
5 hours 47 minutes
Atmospheric and at times creepy, this book is set in the dead of winter at a seaside beach resort. Outstanding reader who knows the perfect time to let his voice squeak.
---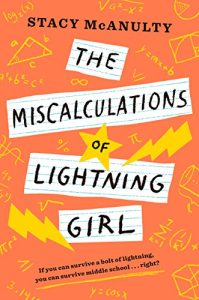 The Miscalculations of Lightning Girl by Stacy McAnulty
Genre: Contemporary Fiction
6 hours 25 minutes
This is a story with a lot of heart and a glimpse into possibly the toughest situation known to kids: Middle School. Add on middle school initiation for someone who has been home-schooled and who has some other mental health issues to grapple with, and well, it is rough. A first rate reader helps you quickly connect with Lucy. Bonus is it is a great way to gain some insight and empathy for those with mental disorders.
---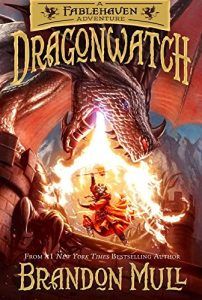 Dragonwatch by Brandon Mull
Genre: Fantasy
10 hours 19 minutes
This is the follow-up series to Brandon Mull's Fablehaven Series. But never fear, you can jump into this book without having read Fablehaven and be perfectly fine. There is enough backstory (but not too much) provided so that you won't be lost. A good reader, classic and abundant fantasy elements, and a brother-sister due ensure that this book has wide appeal.
---
Wildfire
Genre: Contemporary Fiction
4 hours 25 minutes
Loved that this book is set in the summer in the mountains; that seems perfect for a summer listen. Think Survivor and non-stop peril–and yes, that sums up this book. Some cool audio effects were included with radio broadcasts which was a nice touch.
---
Recommendations for Young Adult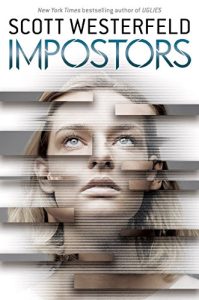 Impostors by Scott Westerfeld
Genre: Dystopian
8 hours 40 minutes
Excellent premise! This could be considered a follow-on series to Uglies, but it is set far enough into the future and with completely new characters that there is no need to have read any of the author's previous works. I know I sound like a broken record, but the reader fit the protagonist–one of my key criteria for a great audiobook.
---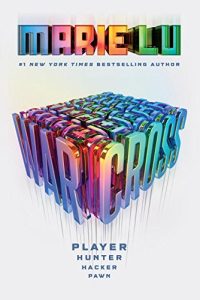 Warcross
Genre: Science Fiction/Dystopian
11 hours 46 minutes
Gamers will especially like this story–plus it has a mystery element to it. This is the first in a series and will likely appeal to both female and male listeners.
---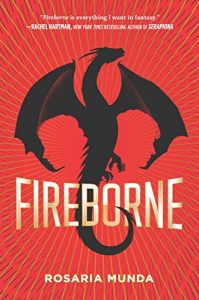 Fireborne
Genre: High Fantasy
13 hours 34 minutes
Wow. It has been a long time since I liked a book as much as I liked this one. It reminded me a bit of Scorpio Races, both in the audiobook format and in atmosphere. There are three readers: a narrator that occasionally is interjected for flashback narratives, one for Annie, and one for Lee. Can't lie, I loved it so much I kept listening long after my commute ended and when I really should have been doing something else. Perfect readers and poignant characters–both female and male equally featured.
---