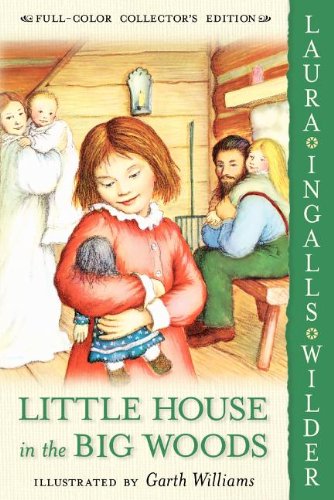 Publisher's Note:
Laura Ingalls's story begins in 1871 in a little log cabin on the edge of the Big Woods of Wisconsin. Four-year-old Laura lives in the little house with her Pa, her Ma, her sisters Mary and Carrie, and their trusty dog, Jack.
Pioneer life is sometimes hard, since the family must grow or catch all their own food as they get ready for the cold winter. But it is also exciting as Laura and her folks celebrate Christmas with homemade toys and treats, do the spring planting, bring in the harvest, and make their first trip into town. And every night they are safe and warm in their little house, with the happy sound of Pa's fiddle sending Laura and her sisters off to sleep.
And so begins Laura Ingalls Wilder's beloved story of a pioneer girl and her family. The nine Little House books have been cherished by generations of readers as both a unique glimpse into America's frontier past and a heartwarming, unforgettable story.
Little House in the Big Woods
by Laura Ingalls Wilder
Overall Review:
Little House in the Big Woods is the first book in the classic Little House on the Prairie series. Warm and inviting, author Laura Ingalls Wilder shares memories of her childhood living near Pepin, Wisconsin in the late nineteenth century. The story follows the four seasons and Ingalls cheerfully explains how hard work and fun accompanied each period. Wilder provides rich and fascinating detail and I found it easy to envision myself alongside the Ingalls as they harvested crops and sap, churned butter and listened to Pa play his violin late into the night.
I fell in love with the Little House series as a girl and credit Wilder for helping spark my love of reading. With plenty of hunting, farming, and wild animal adventures, Big Woods is a great book choice for both girls and boys. I highly recommend this series for all young readers.
Content Analysis:
Profanity/Language: None
Violence/Gore: A child slaps her sibling; a child is hit with a strap/spanked for disobeying (2 times).
Sex/Nudity: None
Mature Subject Matter:
Slaughter of animals for food.
Alcohol / Drug Use:
A few men smoke pipes.
Reviewed By Rachel