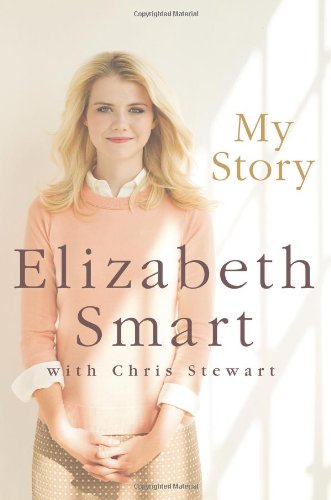 Publisher's Note:
For the first time, ten years after her abduction from her Salt Lake City bedroom, Elizabeth Smart reveals how she survived and the secret to forging a new life in the wake of a brutal crime


On June 5, 2002, fourteen-year-old Elizabeth Smart, the daughter of a close-knit Mormon family, was taken from her home in the middle of the night by religious fanatic, Brian David Mitchell and his wife, Wanda Barzee. She was kept chained, dressed in disguise, repeatedly raped, and told she and her family would be killed if she tried to escape. After her rescue on March 12, 2003, she rejoined her family and worked to pick up the pieces of her life.

Now for the first time, in her memoir, MY STORY, she tells of the constant fear she endured every hour, her courageous determination to maintain hope, and how she devised a plan to manipulate her captors and convinced them to return to Utah, where she was rescued minutes after arriving. Smart explains how her faith helped her stay sane in the midst of a nightmare and how she found the strength to confront her captors at their trial and see that justice was served.

In the nine years after her rescue, Smart transformed from victim to advocate, traveling the country and working to educate, inspire and foster change. She has created a foundation to help prevent crimes against children and is a frequent public speaker. In 2012, she married Matthew Gilmour, whom she met doing mission work in Paris for her church, in a fairy tale wedding that made the cover of People magazine.
My Story
by Elizabeth Smart
Overall Review:
Elizabeth Smart is brutally honest in this memoir of her time living with her captors in the mountains near her home. At times I felt that she was trying a little too hard to prove her own innocence in her lack of trying to escape, but I imagine by now she has had so many accusatory comments and barbs thrown at her that she felt she must make the statements she did.
Having read her parents account of her disappearance in the book Bringing Elizabeth Home, it was interesting to get Elizabeth's perspective first hand, even though at times her account was uncomfortable. Elizabeth is an innocent child when she is first abducted, and her family holds religion dear to them. I was amazed at how loyal the whole family stayed in their faith, even in the midst of such tragedy and horror. This is a perfect read for anyone who wants a more intimate look at the life of Elizabeth, and her inspiring story.
Content Analysis:
Profanity/Language: None
Violence/Gore: Elizabeth is threatened with a knife when she is kidnapped; Elizabeth describes being bound to her captors by a cord to keep her from running away; the captors threaten to kill her family if she tries to escape; Elizabeth recounts being raped every day for much of her captivity, but gives as little detail as possible.
Sex/Nudity: Elizabeth recounts being raped every day for much of her captivity, but gives as little detail as possible; she writes of being forced to remove her clothing; her male captor kisses her forcefully several times; sex between her male and female captor is mentioned twice, but not in detail.
Mature Subject Matter:
Abductions; homelessness; sexual abuse.
Alcohol / Drug Use:
Adults drink alcohol; a child is forced to drink alcohol, even though it is against her beliefs.
Reviewed By Lydia