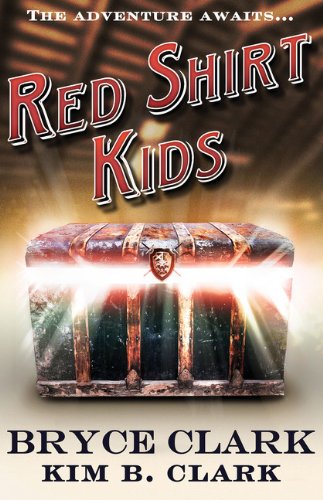 Publisher's Note:
Sixth-graders Mike and Amy must learn to use their special powers to save other children.
Mike and Amy Smith are nervous about moving from their nice house in Boston to a dilapidated old mansion in Falton, New Hampshire. They know they'll have to start the sixth and seventh grade not knowing anyone, and their new house is just plain creepy.
While searching their dusty attic, Mike and Amy uncover an old wooden chest with a mysterious lock. Inside, they find magical red shirts that give them special powers. Together with a new friend, Sam, Mike and Amy must figure out how to harness their newfound gifts while keeping them secret from their parents. As their powers grow, they begin a search for two kids who had gone missing in the summer, pitting them against a powerful adversary with mystical powers of his own. Will Mike and Amy be able to unlock the ancient mystery of the shirts? And will they be able to find the missing children before it is too late?
Bryce Clark wrote and directed the independent dramatic comedy, Ben Banks. He has also written for the children's show, Yo Gabba Gabba and is a partner in the production company, StoryLand Entertainment. Bryce and his wife live in the Salt Lake area with their five children.
Kim B. Clark is the former dean of Harvard Business School, and is the president of Brigham Young University-Idaho. He and his wife live in Rexburg, Idaho.
This book was sent to Compass Book Ratings for review by Gibbs Smith
Red Shirt Kids
by Bryce Clark, Kim B. Clark
Overall Review:
In Red Shirt Kids, Bryce Clark and Kim B. Clark have achieved a rare success in creating an adventure that is entertaining and fun, but also teaches valuable principles without coming off as preachy or forced, as so many that attempt the same tend to do. The book addresses issues of sibling rivalry, bullying, judging others, the uncertainties of moving to a new school, the differing talents of others, and the value of working together, all wrapped in a tale of mystery and magic superpowers. The characters are believable and likeable, the confrontation climactic, the resolution satisfying while leaving an opening for a sequel. There are a few things that give the book an inexperienced and unpolished feel: slightly underdeveloped narrative, inconsistencies in details, changes in perspective that are hard to follow or don't quite flow, a dash of predictability and convenience. However, most of these things would bother only the somewhat OCD reader, such as myself. Overall, Red Shirt Kids is a fun, feel-good book that is edifying as well as entertaining.
Content Analysis:
Profanity/Language: 1 mild obscenity; 1 offensive hand gesture.
Violence/Gore: Frightening description of villain, kidnaps kids; instances of bullying; stealing; one character throws something at another hard enough to knock him out and leave a welt; house collapses on top of a character; characters taken captive, blasted, levitated, imprisoned; character sprayed in the face with a chemical and knocked out; character taken hostage and threatened; explosions and fire destroy property.
Sex/Nudity: One character has a crush on another; a character hugs another; a character kisses another on the cheek.
Mature Subject Matter:
Kidnapping, Bullying, Verbal abuse from a parent.
Alcohol / Drug Use:
None
Reviewed By Kristen