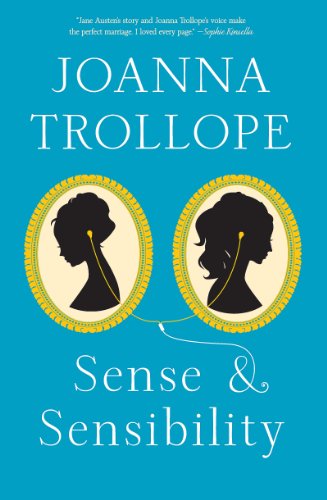 Publisher's Note:
From Joanna Trollope, one of the most insightful chroniclers of family life writing fiction today, comes a contemporary retelling of Sense and Sensibility, Jane Austen's classic novel of love, money, and two very different sisters.
John Dashwood promised his dying father that he would take care of his half sisters. But his wife, Fanny, has no desire to share their newly inherited estate. When she descends upon Norland Park, the three Dashwood girls—Elinor, Marianne, and Margaret—are faced with the realities of a cold world and the cruelties of life without their father, their home, or their money.
With her sparkling wit, Joanna Trollope casts a clever, satirical eye on the tales of Elinor and Marianne Dashwood.
Reimagining Sense and Sensibility in a fresh, modern new light, she spins the novel's romance, bonnets, and betrothals into a wonderfully witty coming-of-age story about the stuff that really makes the world go around. For when it comes to money, some things never change....
Sense & Sensibility
by Joanna Trollope
Overall Review:
This book is the first volume in a series of Jane Austen novels that are being re-written in a modern style. Having never read the original classic (shame on me!), I had nothing to compare this book to while reading it. It was well-written, and as far as I could tell, all of the original characters were accounted for.
Sense & Sensibility tells the tale of three sisters who have a habit of being slightly bratty, a half-brother who wants to protect his half-sisters from the cruel world, and the half-brother's wife who wants nothing to do with her husband's family or inherited living quarters. I thought that the author did a brilliant job of keeping the feel of Jane Austen in the book, but replacing old fashioned things with modern, and putting enough of a twist on things that someone reading both the original book, and this new one, would be entertained for the entirety of both novels.
Content Analysis:
Profanity/Language: 5 religious exclamations; 2 mild obscenities; 1 religious profanity; 2 derogatory names
Violence/Gore: A fatal car crash is mentioned, but no details are given; a character dies; an abortion is mentioned but no specifics are given.
Sex/Nudity: Adults kiss; adults show affection; sex is mentioned in a conversation twice, but no details are given.
Mature Subject Matter:
Adult relationships
Alcohol / Drug Use:
Drugs are mentioned; an adult is an alcoholic; adults drink alcoholic beverages.
Reviewed By Lydia